Williams FW31 and Renault R29 released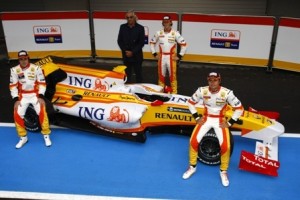 Williams and Renault have unveiled their 2009 contenders at Portimao in Portugal today. While the Williams FW31 is painted in winter test livery, the Renault R29 is sporting a new paintjob and prominent Total branding with the front and rear wing end-plates.
Both cars show the new wide front wing and tall rear wing prescribed by the new 2009 regulations but as with the previous 2009 car launches each have their own unique approach. The Renault's rear is quite different from any of the other 2009 cars and they have kept the 'shark fin' from last year.
The Williams's front wing looks more sculpted than the Renault. Williams have also chosen to go down a different route with their KERS development. While most teams have opted for an electronic device, Williams are using a kinetic version.