Williams Formula Two car launched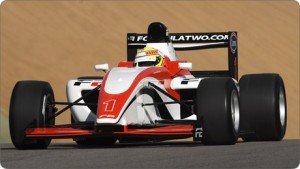 The new JPH01 Formula Two car was unveiled at Brands Hatch on Monday.  The car was rolled out in front of Sir Frank Williams and Patrick Head before British Touring Car driver Steven Kane took it out on the track.
Designed by Williams, the car is powered by a 1.8 litre turbo Audi engine with 400bhp on standard boost and 450bhp on overboost.
While GP2 has been the main feeder series for Formula One in recent years, for much of the history of Formula One, Formula Two has been the stepping stone to the top series.
Formula Two first started in 1948 as a cheaper complement to the expensive Formula One Grand Prix cars.  In fact, in 1952 and 1953, Formula One was so expensive and there were so few entrants that all the Championship races in those years were run with Formula Two cars.
Now, after an absence of 25 years, the FIA are hoping the return of Formula Two will provide an affordable route for young drivers to progress to Formula One without having to find the enormous sums required for GP2.
The top three finishers in the 2009 Formula Two Championship will be eligible for FIA Superlicences and the Champion will win a test with the Williams Formula One team.
The driver lineup includes ex-F1 driver Martin Brundle's son, Alex and World Champion John Surtees's son, Henry as well as Natacha Gachnang who is the cousin of Toro Rosso driver Sébastien Buemi.
The F2 Championship starts at Spain's Circuit de Valencia in May, partnering the World Touring Cars.
More pictures of the launch below: