Rubens is back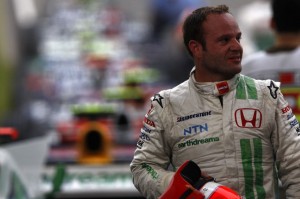 It looks like Rubens Barichello, the most experienced driver in Formula One, will be back with the soon to be renamed Honda F1 team in 2009.
There had been speculation that Bruno Senna, nephew of the great Ayrton Senna, would replace Barrichello this year.  Now it seems that with only a few weeks to go until the first Grand Prix in Melbourne, and the team yet to turn a wheel on the new car in testing, Ross Brawn is keen to take advantage of Barrichello's vast F1 experience.
Last year's Turkish Grand Prix saw Barrichello make his 257th Grand Prix start beating the previous record number of starts held by Riccardo Patrese and 2009 will be the Brazillian's 16th year in Formula One.
As with every post about Honda recently, I have to add the disclaimer that nothing has been officially announced, but I'm glad it looks like Rubens will be on the grid this year.  While it would be nice to see the Senna name in Formula One again, it makes sense to have an experienced pair of hands for what will be a difficult year for the team.  Rubens clearly thinks he still has what it takes to race in Formula One, saying at the end of last year:
I have unfinished business in F1.  I am sure I can finish higher up, if not winning the championship. I really believe that is what I deserve.
While winning the Championship is unlikely for Rubens this year, it would be a shame if he didn't return to Formula One for at least another year.  As the most experienced F1 driver ever he deserves a proper send off when he finally does retire.