Force India launches VJM02 (officially)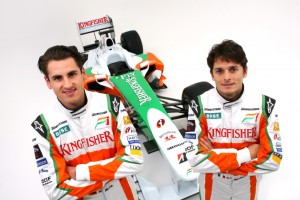 Force India have officially launched their 2009 challenger, the VJM02, at the Circuit de Jerez in Spain on Sunday.
Pictures of the new car, which uses a Mercedes-Benz engine and  McLaren gearbox, hydraulics system and KERS, were posted on the internet on Saturday.
Force India's 2008 car used Ferrari power but a partnership deal signed with McLaren in November meant the team had a lot of work to do to adapt the VJM02 to the Mercedes-Benz engine and McLaren gearbox.
Force India failed to score any points last year, something that team boss Dr Vijay Mallya wants to see change in 2009:
I would like to see a strong start, rising to points mid-season and a definite improvement in qualifying. Regular points finishes should be the aim.
Force India have missed the first two group test sessions and Giancarlo Fisichella admits they are at a disadvantage launching their new car so late:
It is a disadvantage as it's important to drive as much as you can before the start of the year to get a feeling with the car and try and establish a good set-up. It's not easy in just four days, especially with the new rules coming in this year. We are just going to have to try and get as much as we can from these eight days before the season.
Giancarlo Fisichella will kick off the testing of the VJM02 on Sunday and Monday, with team mate Adrian Sutil taking over for the final two days of testing.