Force India in front again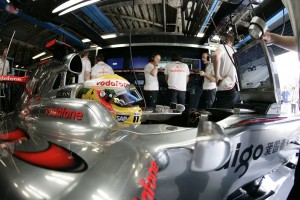 Force India carried their strong pace from Belgium into qualifying at Monza with Adrian Sutil putting his car on the front row for tomorrow's Italian Grand Prix.
Sutil had looked strong all weekend and the German only narrowly missed out on claiming Force India's second pole in a row after Lewis Hamilton put a perfect lap together in the closing moments of the third qualifying session.
Kimi Raikkonen managed to get his Ferrari onto the second row ahead of Heikki Kovalainen but Giancarlo Fisichella found the Ferrari F60 a bit of a handful and was knocked out in Q2.  Fisi will start from 14th tomorrow – behind both Force Indias.
The two Brawns will start alongside each other on the third row of the grid and look very strong considering Ross Brawn has said they will be driving a one-stop strategy.  We will have to wait for the published car weights but it is likely all the cars in front of them will have to stop twice.
Despite being surrounded by KERS cars, Adrian Sutil is confident he can still fight for a podium:
We have a great package, this circuit suits us very well as we have an incredible top speed and also a good downforce package so the efficiency of the car is really good. I'm starting on the front row with Lewis for the first time since F3 and I'm really happy he is next to me, he's a good friend but we will fight hard for it.
Sunday's race will be split between those stopping once and those stopping twice and we will only really be able to get a clear picture once everyone has made their final pit stop.  It should be interesting…
2009 Formula One Italian Grand Prix Qualifying Results
| Pos | Driver | Team | Time |
| --- | --- | --- | --- |
| 1 | Lewis Hamilton | McLaren-Mercedes | 01:24.066 |
| 2 | Adrian Sutil | Force India-Mercedes | 01:24.261 |
| 3 | Kimi Raikkonen | Ferrari | 01:24.523 |
| 4 | Heikki Kovalainen | McLaren-Mercedes | 01:24.845 |
| 5 | Rubens Barrichello | Brawn-Mercedes | 01:25.015 |
| 6 | Jenson Button | Brawn-Mercedes | 01:25.030 |
| 7 | Vitantonio Liuzzi | Force India-Mercedes | 01:25.043 |
| 8 | Fernando Alonso | Renault | 01:25.072 |
| 9 | Sebastian Vettel | Red Bull-Renault | 01:25.180 |
| 10 | Mark Webber | Red Bull-Renault | 01:25.314 |
| 11 | Jarno Trulli | Toyota | 01:23.611 |
| 12 | Romain Grosjean | Renault | 01:23.728 |
| 13 | Robert Kubica | BMW Sauber | 01:23.866 |
| 14 | Giancarlo Fisichella | Ferrari | 01:23.901 |
| 15 | Nick Heidfeld | BMW Sauber | 01:24.275 |
| 16 | Timo Glock | Toyota | 01:24.036 |
| 17 | Kazuki Nakajima | Williams-Toyota | 01:24.074 |
| 18 | Nico Rosberg | Williams-Toyota | 01:24.121 |
| 19 | Sebastien Buemi | Toro Rosso-Ferrari | 01:24.220 |
| 20 | Jaime Alguersuari | Toro Rosso-Ferrari | 01:24.951 |
Image: McLaren