First picture of the BGP 001 but is it any good?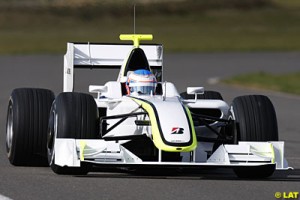 Autosport.com have posted the first image of the new Brawn GP BGP 001.  Jenson Button took the team's 2009 challenger out for a few shakedown laps of Silverstone today ahead of the car's first full test in Barcelona.  According to Autosport, "the car features a wide low nose, and highly sculpted sidepods".
There is also a distinct lack of sponsorship although that's nothing new for this team…
But the big question on everyone's lips is, will the car be be any good?  I think there are reasons to be hopeful.
Honda have produced some fairly rubbish racing cars lately but they knew pretty early on in 2008 that their car sucked and even sticking "dumbo ears" on it wouldn't make it more driveable.  So presumably Honda switched their development to the 2009 car a long time ago; sooner, even, than BMW and news coming out of Honda over the last few months always seemed to point out the team were still working on the 2009 car.
Secondly, the Mercedes-Benz engine the team have acquired is looking pretty handy in the new Force India car and it powered Lewis Hamilton to the Championship last year.  I'm actually quite impressed the team have managed to fit the new engine so quickly.  We don't know how long Brawn GP have had the Mercedes-Benz powerplant to work with but refitting the VJM02 to the new engine caused a lot of work for Force India as a change of engine and gearbox causes knock-on effects to other areas of the car.  Of course the Brackley engineers outnumber the Force India team but to get the engine integrated in a relatively short time is good work.  Whether this engine transplant causes reliability issues we will have to wait and see.
And lastly, they have Ross Brawn in charge.  The man knows his racing cars.  While Brawn couldn't rescue Honda from the RA108 last year, this is now his team and he has been involved in the complete development of the new car.
So we won't have an idea how fast the new car is until the Barcelona test and we won't really know if can be competitive until we get to Melbourne.  Can't wait.
Image: LAT