Barrichello goes fastest in Barcelona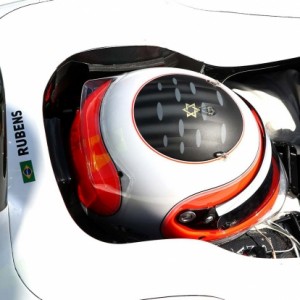 Wow.
Only days after the new Brawn GP car's first shakedown at Silverstone, Rubens Barrichello set the fastest time on the final day of testing in Barcelona on Thursday.
His lap time of 1:18.926 was nearly a second faster than Nico Rosberg's Williams FW31 and Lewis Hamilton was almost two seconds slower in his MP4-24 despite being powered by the same Mercedes-Benz engine.  The other Mercedes powered car, Fisichella's Force India VJM02, finished in tenth place.
Not only was the BGP 001 fast it was reliable too, completing 110 laps.
I said last week that I thought Brawn GP could do alright this year but I didn't really expect it to look so strong so soon.
Team owner Ross Brawn said:
The team made a very late start to our pre-season testing programme, with only seven days in which to run the car before the first race in Melbourne; therefore our focus has been on reliability and achieving as much mileage as possible. Both of these aims have been successfully achieved this week.
There has been loads of speculation about what the times we've seen in winter testing mean.  Does the fact that the Brawn went quickest mean it is really the fastest car or are McLaren sandbagging?  We won't really know until the lights go out in Melbourne but even if Rubens set that time running on fumes, comments from the other drivers suggest they are impressed by the car's speed.  Ferrari's Felipe Massa said:
No one can do the same times [as Brawn GP]. Everyone was using less fuel, not only them.  But their times were much faster than those that anyone else could do.
McLaren's performance is also very puzzling.  There have been comments from Ron Dennis and Norbert Haug suggesting that they don't have the speed they want yet but I get the feeling they aren't trying for raw pace.  With the ban on testing this year I think McLaren are being very methodical in correlating what they see on the track with what their computer simulations tell them.  If they can accurately simulate the real world using CFD and racks of computers then they will have an easier time developing their car 'virtually', as it were, throughout the year.
They may also be playing their cards close to their chest, not wanting to give any advantage away that could be copied by other teams.  As Ron Dennis said:
We had a strategy for this year to leave it to the last possible moment to produce our aerodynamic package for the Australian Grand Prix.  That in itself gave us some production challenges, and we have really only started to run the car in the last day with the Australian aero package. It doesn't mean you are lost or that you don't know what you are doing.
So that was why they were running the 2008-spec rear wing?
It's all very exciting and who will be on the podium at the Australian Grand Prix at the end of the month is anyone's guess but after Ross Brawn previously downplayed his team's chances and suggesting that 2009 will be another transitional year it looks like Brawn GP could be serious championship contenders.
Thursday was the final day of testing for Ferrari, BMW, Toyota, Force India and the two Red Bull teams before the season opener in Melbourne but Brawn GP and McLaren will grab a few final days in Jerez next week.
David Coulthard said that "Force India could be the shock of the season",  but if Brawn GP carry their testing pace through to Australia it could be the Mercedes-Benz powered BGP 001 that is the real shock.