Ferrari fastest in Malaysia practice, Hamilton sorry for 'huge mistake'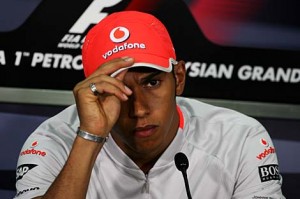 The big news of the day is the fallout from the McLaren-Trulli affair in Australia.
On Friday morning, McLaren sporting director Davey Ryan was sent home by team boss Martin Whitmarsh for his role in misleading the stewards at the Australian Grand Prix last weekend.  Ryan has been with McLaren since the seventies but it looks like his exit from the team will be permanent.
Ryan is taking the fall because for some reason as he and Hamilton walked to the stewards office after the race Ryan told Hamilton to withhold the fact that the team had told Lewis to let Jarno Trulli through in the final safety car session of the race.  Lewis was clearly uncomfortable with doing this but wanted to follow the senior team member's instructions and went along with it.
Later on Friday a clearly emotional Hamilton apologised in front of the world's media, saying:
As soon as I got out of the car I did the TV interviews at the back of the garage and straight away I gave a good account of what happened during the race.

Straight after that we were requested by the stewards, and whilst waiting for the stewards I was instructed – and misled – by my team manager to withhold information, and that's what I did.

I sincerely apologise to the stewards for wasting their time and for making them look silly.

I'm very, very sorry for the situation – for my team, for Dave, who's been a good member of the team for many years and whilst I don't think it was his intention…he's a good guy.

When I went into the meeting I had no intention of… I just wanted to tell the story, say what happened.

I was misled and that's the way it went.
Some might say that Davey is a scapegoat and Hamilton has got away lightly.  But I do believe that Lewis was just trying to go along with what his team wanted out of a sense of loyalty.  In the days that followed Lewis obviously regretted what he'd done and I think the following statement goes some way to explaining how it happened:
As a human being and as a man it's right for me to stand in front of you and put my hands up. I want to say sorry to all my fans. I am not a liar or a dishonest person; I am a team player.   If the team ask me to do something, I generally do it – but I felt awkward and uncomfortable. This is not an easy thing to do, to step back and realise I was in the wrong – but I was in the wrong. I was misled. I don't know what else is going to happen in the future.
I still think it could have all been avoided if race control could have provided guidance to the drivers and teams at the time.  Neither Lewis nor Trulli did anything wrong on the track and if the race organisers had sorted out the proper race order at the time instead of handing Trulli a ridiculous 25 second penalty none of this would have had to happen.
But with all the controversy we shouldn't forget there is still a race on Sunday and in Friday practice the Ferraris of Felipe Massa and Kimi Raikkonen topped the timesheet despite Kimi suffering a problem with KERS and a fire in the cockpit.
Red Bull and Williams looked quite strong again but it seems Brawn GP won't necessarily have it all their own way on Sunday.  Rubens Barrichello will take a five place grid penalty for changing a gearbox.
Other teams like Toyota and BWM concentrated on setup rather than lap times so they may do better in qualifying than their Friday times would suggest.
Here are the times from the first two practice sessions:
First Practice
| Pos | Driver | Team | Time |
| --- | --- | --- | --- |
| 1 | Nico Rosberg | Williams-Toyota | 1:36.260 |
| 2 | Kazuki Nakajima | Williams-Toyota | 1:36.305 |
| 3 | Jenson Button | Brawn-Mercedes | 1:36.430 |
| 4 | Rubens Barrichello | Brawn-Mercedes | 1:36.487 |
| 5 | Felipe Massa | Ferrari | 1:36.561 |
| 6 | Kimi Raikkonen | Ferrari | 1:36.646 |
| 7 | Lewis Hamilton | McLaren-Mercedes | 1:36.699 |
| 8 | Mark Webber | Red Bull-Renault | 1:36.703 |
| 9 | Sebastian Vettel | Red Bull-Renault | 1:36.747 |
| 10 | Timo Glock | Toyota | 1:36.980 |
| 11 | Jarno Trulli | Toyota | 1:36.982 |
| 12 | Giancarlo Fisichella | Force India-Mercedes | 1:37.025 |
| 13 | Robert Kubica | BMW Sauber | 1:37.039 |
| 14 | Nelson Piquet Jr | Renault | 1:37.199 |
| 15 | Adrian Sutil | Force India-Mercedes | 1:37.241 |
| 16 | Fernando Alonso | Renault | 1:37.395 |
| 17 | Sebastien Buemi | Toro Rosso-Ferrari | 1:37.634 |
| 18 | Nick Heidfeld | BMW Sauber | 1:37.640 |
| 19 | Sebastien Bourdais | Toro Rosso-Ferrari | 1:38.022 |
| 20 | Heikki Kovalainen | McLaren-Mercedes | 1:38.483 |
Second Practice
| Pos | Driver | Team | Time |
| --- | --- | --- | --- |
| 1 | Kimi Raikkonen | Ferrari | 1:35.707 |
| 2 | Felipe Massa | Ferrari | 1:35.832 |
| 3 | Sebastian Vettel | Red Bull-Renault | 1:35.954 |
| 4 | Nico Rosberg | Williams-Toyota | 1:36.015 |
| 5 | Mark Webber | Red Bull-Renault | 1:36.703 |
| 6 | Rubens Barrichello | Brawn-Mercedes | 1:36.161 |
| 7 | Jenson Button | Brawn-Mercedes | 1:36.254 |
| 8 | Kazuki Nakajima | Williams-Toyota | 1:36.290 |
| 9 | Heikki Kovalainen | McLaren-Mercedes | 1:36.397 |
| 10 | Nelson Piquet Jr | Renault | 1:36.401 |
| 11 | Lewis Hamilton | McLaren-Mercedes | 1:36.515 |
| 12 | Jarno Trulli | Toyota | 1:36.516 |
| 13 | Sebastien Buemi | Toro Rosso-Ferrari | 1:36.628 |
| 14 | Timo Glock | Toyota | 1:36.639 |
| 15 | Fernando Alonson | Renault | 1:36.640 |
| 16 | Adrian Sutil | Force India-Mercedes | 1:36.875 |
| 17 | Robert Kubica | BMW Sauber | 1:37.267 |
| 18 | Sebastien Bourdais | Toro Rosso-Ferrari | 1:37.278 |
| 19 | Giancarlo Fisichella | Force India-Mercedes | 1:37.432 |
| 20 | Nick Heidfeld | BMW Sauber | 1:37.930 |