Prediction game: Points update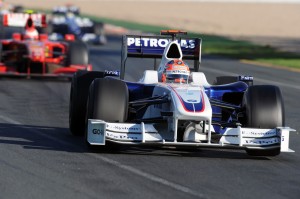 After all the controversy of the recent days it seems we finally have a definitive result for the Australian Grand Prix.  Unfortunately (or fortunately) it means some people's points have changed from the original result.  This was good news for Sergio and Correa but bad news for Nathan and Eygló.
All the points have now been updated on the Prediction Game Page and we are ready for round two!  With the threat of tropical monsoons, Malaysia looks like it's going to be just as unpredictable as Australia.
Remember, you can add (or even update) your predictions until qualifying starts on Saturday (that's 14:00 local time) so get 'em in and good luck!
If you want to keep up to date with the blog you can subscribe to the RSS feed or even get updates sent to you by email.
Oh, and I still haven't figured out what the prize should be.  Any suggestions?