Button wins again in rain-shortened Malaysia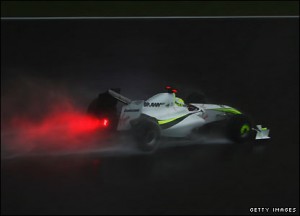 Jenson Button has won his second Grand Prix in a row for Brawn GP in a race that was halted due to rain.  Despite having to replace his front wing because the team left it out overnight in the rain, Jenson's car once again proved its worth on a new circuit in difficult conditions.  Nico Rosberg got the better of Button off the starting line but Jenson regained the lead a couple of laps before his first pit stop and was still leading on lap 32 when the red flags came out.  The final positions were taken from the leader's last full lap (31) which meant that  Nick Heidfeld took second place and Timo Glock was third.
Like Australia, the Malaysian Grand Prix had a late starting time of 5pm, to give it a better timeslot on the European TV schedules, but drivers had warned that visibility could be a problem, especially if it rained.  Sure enough, although the race started in dry conditions, the Sepang circuit was hit by a torrential downpour.  I am actually in Singapore at the moment and it seems we got the weather here first.  Around lunchtime we were hit by a thunderstorm of biblical proportions and anyone who was caught in that could tell you that there was no way racing could continue in those conditions. Lewis Hamilton said they were the worst he had ever driven in:
When the rain came down, it was impossible to drive. I was aquaplaning everywhere – these were the most dangerous conditions I've ever raced in.
In the end it was all about being on the right tyres at the right time.  Kimi Raikkonen took a gamble on full wets but was a couple of laps too early and destroyed his tyres.  Timo Glock, on the other hand, timed the switch to intermediates just right.
In hindsight it seems like it was a mistake to run the race so late and I suspect it will return to its normal time next year but at least the few laps we had were entertaining.  The Red Bulls were fast and there was a great battle between Mark Webber and Lewis Hamilton.  In the end it was a bit of an anticlimax to what was shaping up to be a fantastic race and because it was red flagged on lap 32 only half-points were awarded.
Unfortunately, the politics are not over.  The FIA haven't ruled out further action against McLaren and Hamilton and BMW at last managed to get their diffuser protest in on time so they can join in the fun at the FIA Court of Appeal on April 14.
2009 Malaysian Grand Prix Race Results
| Pos | Driver | Team | Grid Pos | Time | Points |
| --- | --- | --- | --- | --- | --- |
| 1 | Jenson Button | Brawn-Mercedes | 1 | 1:10:59.092 | 5 |
| 2 | Nick Heidfeld | BMW Sauber | 10 | 1:11:21.814 | 4 |
| 3 | Timo Glock | Toyota | 3 | 1:11:22.605 | 3 |
| 4 | Jarno Trulli | Toyota | 2 | 1:11:45.265 | 2.5 |
| 5 | Rubens Barrichello | Brawn-Mercedes | 8 | 1:11:46.452 | 2 |
| 6 | Mark Webber | Red Bull-Renault | 5 | 1:11:51.392 | 1.5 |
| 7 | Lewis Hamilton | McLaren-Mercedes | 12 | 1:11:59.825 | 1 |
| 8 | Nico Rosberg | Williams-Toyota | 4 | 1:12:10.668 | 0.5 |
| 9 | Felipe Massa | Ferraris | 16 | 1:12:16.024 | 0 |
| 10 | Sebastien Bourdais | Toro Rosso-Ferrari | 15 | 1:12:41.256 | 0 |
| 11 | Fernando Alonso | Renault | 9 | 1:12:48.514 | 0 |
| 12 | Kazuki Nakajima | Williams-Toyota | 11 | 1:12:55.222 | 0 |
| 13 | Nelson Piquet Jr | Renault | 17 | 1:12:55.805 | 0 |
| 14 | Kimi Raikkonnen | Ferrari | 7 | 1:13:21.933 | 0 |
| RET | Sebastian Vettel | Red Bull-Renault | 13 | retired, 30 laps | 0 |
| RET | Sebastien Buemi | Toro Rosso-Ferrari | 20 | retired, 30 laps | 0 |
| 17 | Adrian Sutil | Force India-Mercedes | 19 | lapped | 0 |
| RET | Giancarlo Fisichella | Force India-Mercedes | 18 | retired, 29 laps | 0 |
| RET | Robert Kubica | BMW Sauber | 6 | retired, 1 lap | 0 |
| RET | Heikki Kovalainen | McLaren-Mercedes | 14 | retired, 0 laps | 0 |