Red Bull bring back the shark fin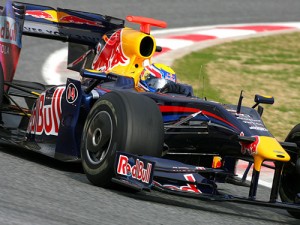 Last month, when Williams introduced their radical 'skate fins' I wondered why Adrian Newey, the man who introduced shark fins to Formula One, decided to shrink the engine cover on the new Red Bull RB5 to little more than a 'stingray barb'.
Well, it seems like he was just teasing us as Red Bull have arrived at the Circuit de Catalunya with the mother of all shark fins.  As you can see in the picture, the engine cover of the RB5 now stretches all the way back to the rear wing!  There's a closer view at thef1.com.
The 2009 race season hasn't even started and already the teams are seeing what kind of crazy stuff they can fit around the new aero regulations.  McLaren have installed a completely new floor with cutout sections near the rear wheels and whether the FIA will allow Williams to keep the skate fins remains to be seen.
I don't really mind the standard shark fin and even those skate fins are ok but I think the Red Bull's new engine cover spoils an otherwise good looking car.