BMW's radically different F1.09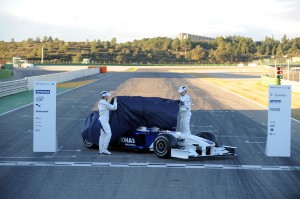 BMW Sauber unveiled their new car today at the Circuit de Valencia (not to be confused with the Valencia Street Circuit.) Immediately after the official unveiling in the morning, Robert Kubica gave the F1.09 its roll-out on the track. Taking advantage of the sunny weather in the afternoon, the team concentrated on system checks and collecting base data from the all-new car.
The F1.09 is quite different beast from their 2008 challenger. By the end of last year, the F1.08 had sprouted so many wings, horns and curves that it looked like something that had flown straight out of Hades. It looked like it would give you a nasty cut if you bumped into it. Basically, it looked cool. But when viewing the F1.08 and F1.09 side-by-side the difference is striking. The new car's bodywork is smooth, the nose is higher and wider, the sidepods are high at the front and it almost seems like they've forgotten to bolt some things on around the front wheels there.
This is all part of the new look resulting from the 2009 regulations but unfortunately I don't think BMW have succeeded in producing as attractive a car as McLaren or Ferrari. While the front wing has three elements it doesn't look as racy as the McLaren's and there is something about the whole car which just doesn't look very adventurous. Still, BMW have been working on this car for a long time and were one of the first teams to test the new aero package and are reportedly well advanced in their KERS testing.
Robert Kubica's performance was impressive last year, achieving the first win for the team. He was leading the championship at one stage and seemed to feel if the team had developed last year's car more instead of turning their attention to the F1.09 he may have been in a position to challenge seriously for the title. But it's always a trade-off. With the limited testing available in 2009 Kubica might be glad of all the work that has gone into the new car.
BMW Motorsport Director Mario Theissen clearly has his sights set on Ferrari and McLaren this year:
Ferrari and McLaren possess vast reserves of experience and have been operating at the top level for many years. That's what our highly motivated team are setting out to emulate – through hard work and efficiency, coupled with our calm, analytical approach to the job.
If the F1.09 gets Kubica and Heidfeld onto the podium more often this year I'm sure they won't care how it looks.