Ferrari unveils F60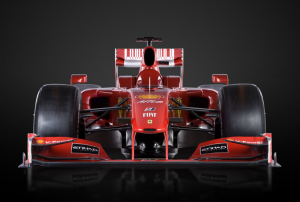 The F2009 is actually the F60. Ferrari were the first F1 team to unveil their 2009 car today, and the name commemorates the Scuderia's 60 years in Formula One. Pictures of the new car were released on the Ferrari website before Felipe Massa took the car to the track at Mugello.
As expected the new Ferrari looks quite different from last year's car with a high, narrow rear wing and a much wider front wing. The central section of the front wing is clear of many of the aerodynamic surfaces we saw last year with only stubby side elements. In fact the whole bodywork is much smoother with none of the slotted "gills" or little flick-ups that attached themselves like barnacles to the bodies of the cars over the season.
The Ferrari website describes the "possibility of using a Kinetic Energy Recovery System (KERS)" and goes on to say it is "centrally mounted on the engine under the rear part of the chassis". Ferrari have admitted to being behind schedule in their KERS development so it remains to be seen whether this "possibility" is made use of in the opening races of the season. You can see in this picture of the new F60 steering wheel there is a dial marked KERS and a big red button labeled "K" that would seem to be the button for triggering the KERS boost.
Ferrari usually manages to build good looking cars and while the 2009 regulations have created quite a different looking car from last year I think it still looks pretty good. The smooth lines of the bodywork are nice and I'm sure we'll get used to the new look. Now if they would only ban those wheel covers so we can see some glowing discs again!