Will we ever see a Swiss Grand Prix again?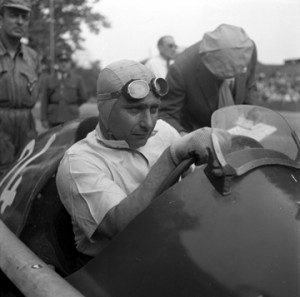 When Sebastien Buemi straps the Toro Rosso on in Melbourne this year not only will he be the youngest driver on the grid, he will also be the first Swiss driver to race in Formula One for 14 years.
While some countries like Finland seem to breed F1 champions no Swiss driver has scored points in the last 25 years. What's wrong with Switzerland? After all, Lewis Hamilton lives there.
Switzerland does in fact have a history of Grand Prix racing, starting in 1934 at the old Bremgarten circuit. Originally built as a motorcycle racing track in 1931, the circuit itself had no true straight just a collection of high-speed corners sweeping through the forests north of Berne. The tree-lined roads and changes in road surface made for a dangerous circuit and the first race held at Bremgarten tragically claimed the life of driver Hugh Hamilton when his Maserati broke a wheel and he lost control at nearly 100mph. Bremgarten remained the home of the Swiss Grand Prix until 1954 when Juan Manuel Fangio won in a Mercedes-Benz W196.
Then the following year the 1955 24 Hours of Le Mans saw the death of 84 spectators when Pierre Levegh's Mercedes-Benz 300 SLR was involved in an accident and flew into the crowd, killing the driver as well. Over 100 more people were injured and the terrible accident prompted many countries to ban motor racing including France, Germany and Switzerland. But while motor racing was reintroduced in the other countries, it was only 50 years later in 2007 that the Swiss Parliament voted to lift the ban on racing. Incredibly, while 97 were in favor of lifting the ban there were still 77 opposed. However this legislation was subsequently not ratified by the Council of States so there is little chance that motor racing will return to Switzerland in the near future.
All this means that while Finland has produced more Formula One world champions per capita than anywhere else and France has a great heritage of racing, Swiss drivers have rather a hard time of it.
Sebastien Buemi explains:
Switzerland is not a good place from which to embark on a racing career. There is no help for the drivers, no infrastructure, no circuits, no support programme. In France for example, there are several well established schools and even so, it's clear they struggle to get drivers into F1, so imagine what it's like in a country that has nothing. It's entirely down to the individual, but maybe my arrival in F1 will change that.
I hope so. Alonso's huge popularity gave Spain a second race in Valencia. Maybe if young Buemi can ignite the same kind of support in Switzerland we might see a Swiss Grand Prix in the future too.