De la Rosa still hopes for a race seat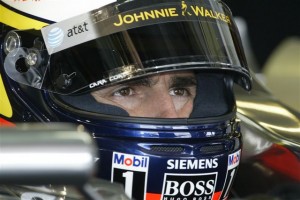 It seems Pedro de la Rosa still has ambitions for an F1 race seat. The 37-year-old Spanish driver has been in Formula One since starting as a test driver with Jordan in 1998.  Since then he has driven for Arrows and Jaguar before joining McLaren as test driver in 2003. He is one of the few drivers to have scored points in his debut Grand Prix and he finished in second place behind Jenson Button at the eventful 2006 Hungarian Grand Prix.
Speaking at the Autosport International show in Birmingham, de la Rosa said:
At the moment, at my age, if I put one step in a different category I know that my chances of getting back into a full race drive are very slim.

So I have to be with the best, I have to test with the best, and become a more intelligent and complete test driver.

So that's my only chance to come back, but for sure I will come back.
Is it too late for Pedro? He is the same age as David Coulthard who retired at the end of last season and with Lewis Hamilton taking Alonso's record to become the youngest ever Formula One Champion at age 23 F1 seems to be more and more a young man's game. Sebastien Vettel is only 21 (and looks about 15). Even Rubens Barrichello is younger than de la Rosa.
I admire Pedro for keeping the dream alive. I think he is a good driver and has put in some impressive performances when he has had to step into the McLaren on race day.  I would like to see him with a permanent race seat. But that being said I can't really see it happening. There comes a time when if you haven't made it by now you're not going to.
It could be that de la Rosa is just better as a test driver than as a race driver and this is where Ron Dennis thinks he can be of most value to the team. I think we need to look at the test driver role not as simply a stepping stone to a full race seat but as a vital team role that takes as much, if somewhat different, skill as a race driver. Just like the safety car driver is an important role that has its own unique demands.
Unfortunately safety car drivers and test drivers don't get the same salary as race drivers and if in his heart Pedro still wants a race seat then he is probably right that if he sets foot outside of Formula One he will never get back in again.