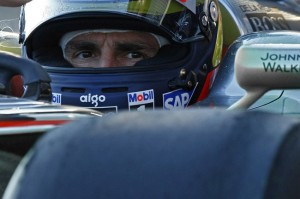 Adrian Campos has said he would like to use Spanish drivers when his new Campos Grand Prix team joins the Formula One grid next year.
Campos Grand Prix will be based in Madrid and Valencia and will use a chassis designed by Dallara and a Cosworth engine.
Spain's AS newspaper said that four drivers were in the running for a race seat with the team in 2010: new Le Mans winner, Marc Gené,  GP2 driver Javi Villa, former Force India test driver Roldan Rodriguez and McLaren third driver Pedro de la Rosa.
Thanks to his recent Le Mans success, the press have focussed on Marc Gené, but I'm more interested in seeing Pedro de la Rosa's name in connection with a race seat.
I like Pedro.  He is a very experienced driver, having been in Formula One for ten years and as well as being an excellent test driver has performed well when required to take the McLaren out on race day.  He finished second in the 2006 Hungarian Grand Prix behind Jenson Button.
Lewis Hamilton thinks he's ok, too:
I've known Pedro since he joined the team in 2003.  His approach, outlook and positivity were an inspiration to me as I prepared to make my Formula 1 debut.  His efforts over the years have lifted this team to some phenomenal heights.  I am proud of what Pedro has done – and continues to do – for Vodafone McLaren Mercedes, the guy is a legend.
Legend he may be, but at 38 de la Rosa is also the oldest driver in Formula One, older even than Rubens Barrichello.  But like Barrichello he clearly still has a passion to race in Formula One and as David Coulthard proved with Red Bull, what a young team really needs is an experienced driver.