Jenson Button signs for McLaren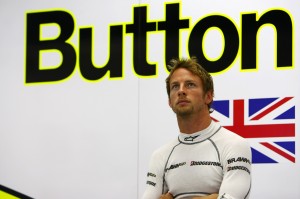 Jenson Button has officially signed a multi-year deal to race at McLaren from 2010.
The pairing of Button and Hamilton will create a kind of British Dream Team that will see for the first time two British World Champions driving together since Graham Hill and Jim Clark at Lotus in 1968.
It seems that Brawn just couldn't come up with the extra cash Button felt he was worth as a World Champion although the press release puts a slightly different spin on things. Button said:
It's always a difficult decision to leave a team when you've been there for so long. But life is all about challenges – and, most important of all, it's about challenging yourself. So, although I won the World Championship with Brawn GP last year, and I'll never forget that, I was always adamant that I wanted to continue to set myself fresh challenges.
I don't think it is just about money anyway. Although Brawn started 2009 miles ahead of any other team this was mostly down to a big head start in development and the fact that everyone was starting from a clean slate.
McLaren improved more than any other team this year and Button rightly feels they will have one of the most competitive cars on the track in 2010. And while McLaren might not have been around for as long as Ferrari, they are one of the most succesful teams in Formula One with their own distinguished history. After visiting the McLaren headquarters Button said:
McLaren is one of the greats of world sport, and its achievements and list of past champions read like a Who's Who of Formula 1 – Emerson Fittipaldi, James Hunt, Niki Lauda, Alain Prost, Ayrton Senna, Mika Hakkinen and of course my new team-mate Lewis Hamilton. I've followed the McLaren team ever since I was a small boy, and it feels unbelievable to finally be a part of it.

When I visited the McLaren Technology Centre earlier this month, it wasn't simply the technical resources and the incredible standards of excellence that impressed me. No, I was equally struck by the ambition, the motivation and the winning spirit that flow through everybody there. And then there's the team's epic history: put it this way, the trophy cabinets seem to stretch for miles.
Whether Button will integrate with the team more successfully than the 2006 World Champion did remains to be seen. Team boss Martin Whitmarsh said:
It has always been our policy to employ the two very best possible drivers – and, in Jenson and Lewis, we feel we not only have the fastest pairing on the 2010 grid, but also the two most complete, professional and dedicated drivers in Formula 1.

Moreover, I'm confident that we'll be able to successfully balance and harness Jenson's and Lewis's complementary skill-sets.
This also means Hekki Kovalainen is now out of a job which is a shame. Heikki can be very quick and deserves to get a seat at another team. Could we see him partnering Kubica at Renault?