Is Kimi going back to McLaren?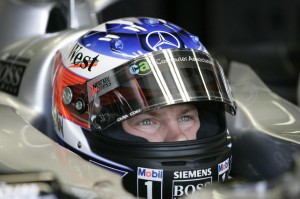 According to an article in the Mirror, Kimi Raikkonen has already signed an agreement to race for McLaren next year — as long as Ferrari will pay him his £30m salary for 2010.
It seems certain that Fernando Alonso will drive for Ferrari in 2010 which means the Scuderia will have way more drivers than they need; 5 if you include Michael Schumacher and Giancarlo Fisichella (7 if you also include Badoer and Gene.)  The trouble for Ferrari is that Raikkonen still has another year left of his contract.
There are always lots of rumours this time of year and I wouldn't necessarily place too much confidence in the Mirror, especially as the article says:
Paddock sources say the Finn, 29, has signed an outline agreement to return to the car he won the world title with in 2007.
Raikkonen did indeed win the Championship in 2007 but I seem to remember him driving a Red Car that year…
This tweet from McLaren's FifthDriver seems to suggest no decision has been made so as usual we will just have to wait for official confirmation.
As much as I like Heikki and think he deserves to keep his seat for 2010 I can't deny I would love to see Kimi back in one of the Silver Arrows.  He was criticised earlier in the year for an apparent lack of interest in F1, but since then he  has scored 5 podiums including a win in Belgium.  That doesn't seem like someone suffering from a lack of commitment.
I also think the team of Kimi and Lewis would work.  Raikkonen clearly doesn't care who his team mate is, he just gets in the car and drives fast. Some think that Hamilton needs to be number one but I'm not so sure.
Both Hamilton and Raikkonen are awesome talents.  They have each won a world Championship and I would love to see them pushing each other all the way through 2010.
Image: McLaren