McLaren try a new diffuser in China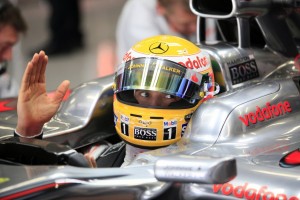 McLaren made a return to the top of the time sheet in the first practice session for Sunday's Chinese Formula One Grand Prix.  Thanks to a new 'interim' diffuser that McLaren have bolted onto Lewis Hamilton's car, the reigning World Champion set the fastest time in first practice with team mate Heikki Kovalainen (running the old diffuser) fourth and the two Brawn GP cars sandwiched in between.
Hamilton couldn't carry the pace through to the second session, though, where Button finished fastest ahead of Nico Rosberg's Williams with Barrichello third fastest.  Even without fancy diffusers, the two Red Bulls of Sebastian Vettel and Mark Webber were fourth and fifth.
Here are the times from the first two practice sessions:
First Practice
| Pos | Driver | Team | Time |
| --- | --- | --- | --- |
| 1 | Lewis Hamilton | McLaren-Mercedes | 1:37.334 |
| 2 | Jenson Button | Brawn-Mercedes | 1:37.450 |
| 3 | Rubens Barrichello | Brawn-Mercedes | 1:37.566 |
| 4 | Heikki Kovalainen | McLaren-Mercedes | 1:37.672 |
| 5 | Mark Webber | Red Bull-Renault | 1:37.752 |
| 6 | Jarno Trulli | Toyota | 1:37.764 |
| 7 | Nico Rosberg | Williams-Toyota | 1:37.860 |
| 8 | Timo Glock | Toyota | 1:37.894 |
| 9 | Fernando Alonso | Renault | 1:38.089 |
| 10 | Sebastien Bourdais | Toro Rosso-Ferrari | 1:38.195 |
| 11 | Kimi Raikkonen | Ferrari | 1:38.223 |
| 12 | Sebastian Vettel | Red Bull-Renault | 1:38.274 |
| 13 | Sebastien Buemi | Toro Rosso-Ferrari | 1:38.307 |
| 14 | Adrian Sutil | Force India-Mercedes | 1:38.319 |
| 15 | Felipe Massa | Ferrari | 1:38.418 |
| 16 | Nick Heidfeld | BMW Sauber | 1:38.456 |
| 17 | Giancarlo Fisichella | Force India-Mercedes | 1:38.460 |
| 18 | Robert Kubica | BMW Sauber | 1:38.463 |
| 19 | Kazuki Nakajima | Williams-Toyota | 1:38.730 |
| 20 | Nelson Piquet Jr | Renault | 1:38.825 |
Second Practice
| Pos | Driver | Team | Time |
| --- | --- | --- | --- |
| 1 | Jenson Button | Brawn-Mercedes | 1:35.679 |
| 2 | Nico Rosberg | Williams-Toyota | 1:35.704 |
| 3 | Rubens Barrichello | Brawn-Mercedes | 1:35.881 |
| 4 | Mark Webber | Red Bull-Renault | 1:36.105 |
| 5 | Sebastian Vettel | Red Bull-Renault | 1:36.167 |
| 6 | Jarno Trulli | Toyota | 1:36.217 |
| 7 | Kazuki Nakajima | Williams-Toyota | 1:36.377 |
| 8 | Timo Glock | Toyota | 1:36.548 |
| 9 | Heikki Kovalainen | McLaren-Mercedes | 1:36.674 |
| 10 | Sebastien Bourdais | Toro Rosso-Ferrari | 1:36.800 |
| 11 | Adrian Sutil | Force India-Mercedes | 1:36.829 |
| 12 | Felipe Massa | Ferrari | 1:36.847 |
| 13 | Lewis Hamilton | McLaren-Mercedes | 1:36.941 |
| 14 | Kimi Raikkonen | Ferrari | 1:37.054 |
| 15 | Sebastien Buemi | Toro Rosso-Ferrari | 1:37.219 |
| 16 | Nelson Piquet Jr | Renault | 1:37.273 |
| 17 | Robert Kubica | BMW Sauber | 1:37.491 |
| 18 | Nick Heidfeld | BMW Sauber | 1:37.544 |
| 19 | Fernando Alonso | Renault | 1:37.638 |
| 20 | Giancarlo Fisichella | Force India-Mercedes | 1:37.750 |
Image: McLaren