Standard operating procedure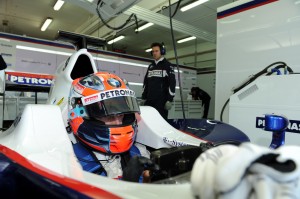 Formula One teams have standard procedures for everything; race starts, pit-stops, post-race in-lap. Apparently there is also a standard procedure for running out of fuel.
On the first day of proper testing with the all-new F1.09, BMW Sauber continued the evaluation process begun on Tuesday during the shakedown. Robert Kubica completed 99 laps as well as conducting several race start simulations. In the morning he deliberately stopped on the track when he carried out a so-called fuel run-out, a standard procedure with every new F1 car.
I'm not really sure what this would involve apart from switching off any electrical systems and putting the car in neutral. I mean, if you run out of fuel there's not much you can do apart from park at the side of the track and get out, is there? I suppose it must be more complicated than that if it is something they need to test. If you know what a 'fuel run-out procedure' is please let me know in the comments.
Kubica will be at the wheel of the F1.09 again on Thursday before Nick Heidfeld takes over on Friday.