Is McLaren better in the wet than Toyota?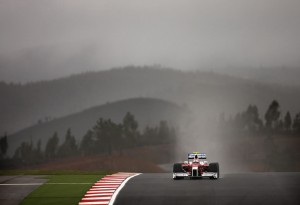 The rain that continues to affect the Algarve Motor Park is making testing difficult for the teams at the Portuguese track. Sebastien Buemi's interim Toro Rosso posted the fastest time on Tuesday of 1:34.429, three seconds clear of Pedro de la Rosa in the new McLaren MP4-24. Jarno Trulli was third fastest in the Toyota TF109 followed by the Renault R29 of Nelson Piquet and Nico Rosberg's Williams FW31.
The wet conditions make it hard to evaluate how the cars will perform on a dry circuit and with the lack of in-season testing in 2009 the teams are missing out on vital testing miles.
But it does give us a chance to see how the new cars compare in the wet. Jarno Trulli has found the new Toyota hard to drive at Portimao:
In the conditions it was very difficult to get temperature in the tyres. It was really hard for everyone out there and it was nearly impossible to drive. This is the first feeling!
But McLaren's Pedro de la Rosa didn't seem to have the same trouble:
The car has a little bit more grip at the front end generally and it is very responsive to steering. You have to put everything together – if you put these tyres onto last year's car, we would be three seconds a lap faster.
It's always hard to compare lap times in testing as different teams will be testing different setups but perhaps this gives us a clue that more work is needed on Toyota's 2009 goal of "stability".