Toyota quits Formula One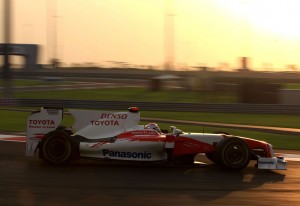 It was always a bit worrying that Toyota wanted to wait until a November board meeting to confirm its Formula One involvement for 2010 but the team had recently been making noises about its possible driver lineup for next year so today's announcement that Toyota are quitting the sport immediately comes as something of a surprise.
It comes a week after Bridgestone said it would be leaving the sport after 2010 and a few months after BMW's exit announcement. At least BMW hadn't signed the Concorde Agreement committing themselves to 2012. Toyota's breach of that contract could leave them open to some kind of legal challenge from Bernie Ecclestone but, ironically, Toyota's exit could smooth the way for the ex-BMW team to rejoin the grid next year.
The world's largest car manufacturer revealed it had made its first ever loss of $4.74 billion last year and is predicting to lose almost double that amount this year. Ultimately this is the reason for Toyota's announcement today.
In a statement, Toyota said that their time in F1 was an "irreplaceable experience that provided an opportunity to develop both human resources and its R&D operations," but in a press conference Toyota President Akio Toyoda expressed his regret at not achieving the results they wanted:
Based on the current economic environment, we realise we have no choice but to withdraw. This has been a very painful decision. I offer my deepest apologies to Toyota's many fans for not being able to achieve the results we had targeted.
Despite being one of the most well-funded teams in Formula One, Toyota never won a race and their best result was fourth in the 2005 Constructors' Championship. This lack of success was surprising considering Toyota's considerable achievements in Rallying, winning the World Rally Championship three times between 1993 and 1999.
So where does this leave the drivers? Both Jarno Trulli and Timo Glock were expected to move on anyway but team boss John Howett had hinted he might give Kamui Kobayashi a full-time seat next year.
Kobayashi will now be looking to one of the other teams for a job and I hope one of them picks him up. Based on his performance in the last two races I think he is the most exciting rookie of 2009.
Image: Toyota