Toyota's 2009 contender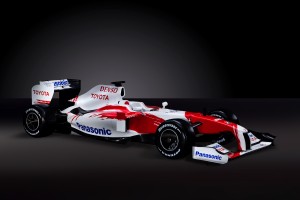 Toyota has launched their 2009 challenger, the TF109, in an online launch today where Team Principal Tadashi Yamashina said the team was targeting its first win in 2009.
The team have been working on the TF109 since October 2007 developing the car in parallel with last year's TF108. This is quite impressive as Toyota made signifcant improvements to last year's car without compromising the development of the TF109. Still, Toyota had the biggest budget of all the teams in 2008 so I guess it's not surprising they found the resources.
Senior general manager (chassis) Pascal Vasselon said that due to the regulation changes in 2009 that reduce the level of  downforce the emphasis for the 2009 car was stability:
We expect top speeds to be similar and sometimes even faster this year but there will be less downforce; this makes stability very important. We also expect the slick tyres to generate a different front and rear grip ratio which will affect stability so that is one of the primary goals for the TF109.
Toyota Preisdent John Howett  said the team had the "potiential" of using KERS. Although Toyota are developing a Kinetic Energy Recovery System the team have made the decision to start the season without it. It is still unclear how many teams will use KERS at Melbourne and how many will introduce it at a later date. While KERS will give a short boost of power that may help overtaking, the devices are complicated and add extra weight to the car.
Howett also said he was happy with his drivers saying that Jarno Trulli is still the quickest qualifier on the grid and "if we give him a good car he can deliver."
Yes, Jarno is often quick in qualifying but we will see if can take the TF109 on to become more than just a rolling road block for the drivers behind him.