Schumacher considering a return to F1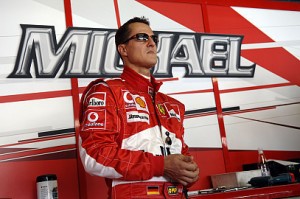 It has been more than two years since Michael Schumacher last raced an F1 car but comments from his spokeswoman Sabine Kehm suggest we might see him back on the track in Valencia.
On Sunday, Felipe Massa was hit in the head by a spring that had fallen off Rubens Barrichello's car at the Hungarian Grand Prix.  The 160mph impact fractured Massa's skull and injured his left eye.  The Brazilian seems to be making a steady recovery but doctors say it is still to early to know if he will compete again this year or even at all.
So that leaves Ferrari with a decision to make some time in the next four weeks; who will drive Felipe's car while he is recuperating? They could decide to run only one car but that seems unlikely as it would almost halve the number of constructors points available to them at each race.
While a number of possible replacement drivers have been suggested let's not forget that Ferrari actually have two reserve drivers, Marc Gene and Luca Badoer, who they employ presumably for this very possibility.  But, despite being Scuderia test drivers, their recent F1 experience is limited. Badoer's last race was for Minardi in the 1999 Japanese Grand Prix where he finished last and Marc Gene hasn't raced in Formula One since the 2004 British Grand Prix where he filled in for the other Schumacher brother at Williams.
There are mixed messages about Schumacher's possible return.  His spokeswoman told the BBC:
The whole thing will be considered by Ferrari. If they approach Michael, then he will consider it. Usually, I would say he's not interested because he's fine with his life and he doesn't miss anything but now the situation is so different.
While his manager, Willi Weber, seems pretty sure that Michael won't want the job:
Whoever sits in the car at the next race in Valencia, it will not be Michael Schumacher. I am not 100 per cent sure; I am 200 per cent sure. The pressure on him would be huge. He would be expected to win, but he has not driven this car.

When Michael was racing he would get as close to perfection as possible. In this case, it would not be perfection; it would be a gamble – and that's not Michael's style.
I think it is pretty unlikely Schumacher will make a comeback.  While I would love to see him race against drivers like Lewis Hamilton and Sebastian 'Baby Schumi' Vettel, I don't think it would suit his perfectionist style.  The expectations on him would be huge and Ferrari isn't the same team it was when he was winning Championships.
Who would you like to see take Massa's seat?  Bourdais?  Senna?  Rossi? Alonso?
Image: Ferrari