Teams' fancy diffusers are legal (for now)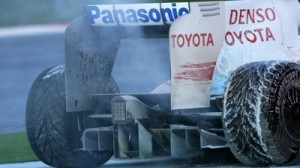 The controversial diffusers on the Brawn GP, Williams and Toyota cars have been declared legal by race stewards after a formal protest was lodged by Ferrari, Red Bull and Renault.  BMW had also planned to join the protest but didn't get their complaint submitted in time.
This means there will be 20 cars on the grid for Sunday's race in Melbourne but it is not the end of the story.  As soon as the verdict was announced the protesting teams said they would lodge an appeal against the stewards' decision and the way these things work means this will not be heard at the FIA International Court of Appeal until after the Malaysian Grand Prix.
Frank Williams, whose car is one of those under complaint, thinks the Brawn BGP 001 could win the Australian Grand Prix:
It is no accident that their new car is absurdly superior – they are making the rest of us look like amateurs. In Australia they will disappear on the basis of what we have seen in testing. I just hope we can be up there, too.
Ross Brawn has always said his car was legal and thinks those who are protesting are just mad because they didn't spot the loophole themselves:
The accusations are coming from teams who did not come up with the idea and now they are getting angry.  For anyone who has read the rules it was quite obvious. Ferrari have only woken up because someone has driven faster than them.
I think it's a shame that the teams have chosen to appeal the decision as it means that should Brawn GP score points or even a podium on Sunday the result will be uncertain until the teams' complaint is heard in court. We don't need another situation like Spa last year when Lewis Hamilton's win was taken away after the race had finished.
Formula One has a long history of teams finding and exploiting loopholes in the rulebook and I don't think these three teams should be punished for doing just that.  The other thing to bear in mind is that Ross Brawn is the chairman of the FOTA Technical Working Group so you would assume he has a pretty good understanding of the rules.
It will be interesting to see, now that the stewards have declared it legal, if McLaren or any other teams fit a new diffuser to their car for Saturday.  McLaren might feel that if they don't have a chance at points anyway they won't have much to lose.