Vettel on pole in Turkey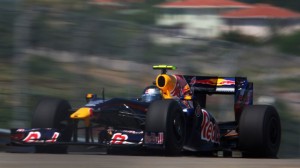 Sebastian Vettel has claimed his second pole position of the season in qualifying for Sunday's Turkish Grand Prix.
The German's time of 1:28.316 was enough to take the number one grid slot from Brawn GP's Jenson Button.
Vettel's team mate Mark Webber briefly had the fastest time in Q3 but will start behind Vettel tomorow on the second row, alongside Rubens Barrichello.
McLaren's Lewis Hamilton missed out on getting through to the second qualifying session for the second time in a row.  While the team had been cautiously optimistic about their chances in Turkey this weekend, Hamilton seemed to lack confidence and struggled for grip in the twitchy MP4-24.  He will start from 16th on the grid.
Lewis Hamilton said afterwards:
Our car seems to have got slower relative to the others as the grip has gone down on the track.  I pushed as hard as I could today but I just had no grip out there.
Force India's Adrian Sutil made it to Q2 for the second time in a row and he will start from 15th on the grid tomorrow, between the two McLarens.
Despite a good performance in practice, Ferrari's Felipe Massa will start from the fourth row of the grid behind team mate Kimi Raikkonen.  He will have a hard time making it four Turkish victories in a row from there.
The new double-decker diffuser fitted to the BMWs of Robert Kubica and Nick Heidfeld seemed to have helped a little, lifting Kubica into Q3, but the team are still firmly in the mid-field.  The Red Bull diffuser on the other hand was finally given a chance to work properly after the slow corners of Monaco and either of the Red Bull drivers could be on the podium on Sunday.
2009 Formula One Turkish Grand Prix Qualifying Results
| Pos | Driver | Team | Time |
| --- | --- | --- | --- |
| 1 | Sebastian Vettel | Red Bull-Renault | 01:28.316 |
| 2 | Jenson Button | Brawn-Mercedes | 01:28.421 |
| 3 | Rubens Barrichello | Brawn-Mercedes | 01:28.579 |
| 4 | Mark Webber | Red Bull-Renault | 01:28.613 |
| 5 | Jarno Trulli | Toyota | 01:28.666 |
| 6 | Kimi Raikkonen | Ferrari | 01:28.815 |
| 7 | Felipe Massa | Ferrari | 01:28.858 |
| 8 | Fernando Alonso | Renault | 01:29.075 |
| 9 | Nico Rosberg | Williams-Toyota | 01:29.191 |
| 10 | Robert Kubica | BMW Sauber | 01:29.357 |
| 11 | Nick Heidfeld | BMW Sauber | 01:27.521 |
| 12 | Kazuki Nakajima | Williams-Toyota | 01:27.629 |
| 13 | Timo Glock | Toyota | 01:27.795 |
| 14 | Heikki Kovalainen | McLaren-Mercedes | 01:28.207 |
| 15 | Adrian Sutil | Force India-Mercedes | 01:28.391 |
| 16 | Lewis Hamilton | McLaren-Mercedes | 01:28.318 |
| 17 | Nelson Piquet Jr | Renault | 01:28.582 |
| 18 | Sebastien Buemi | Toro Rosso-Ferrari | 01:28.708 |
| 19 | Giancarlo Fisichella | Force India-Mercedes | 01:28.717 |
| 20 | Sebastien Bourdais | Toro Rosso-Ferrari | 01:28.918 |
Image: Red Bull Racing