Vettel keeps the dream alive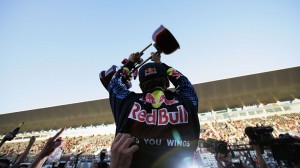 There was a chance both the Drivers' and Constructors' Championships might have been decided at Suzuka.  Instead, after a dramatic qualifying session and a race dominated by Sebastian Vettel, we leave Japan with both titles still up for grabs.
Many expected Brawn GP to seal the Constructors' Championship this weekend and they came very close to doing so.  While Red Bull are still in with a chance (mathematically), Brawn only need half a point to seal victory, something they are almost certain to do in Brazil.
The Drivers' Championship is a lot less certain, though.
Sebastian Vettel was untouchable around the demanding Suzuka circuit, starting from pole position and leading from lights to flag.
What a race! We already had pole position and strategy-wise we were the favourites, but, you know – first of all you have to do the start! We were pretty confident that we could defend our position, as we've had good starts in the past, but it was closer than I thought it would be! Going into Turn 1, I suddenly saw a silver arrow on my left-hand side, but I had the inside line so it was my advantage. After that I put my head down and tried to push with every single lap.
Lewis Hamilton was on target to claim second until a problem with KERS saw him fall into the clutches of Toyota's Jarno Trulli.
When we were behind the Safety Car, I asked the team if they could get the KERS working again so that I could shoot past Jarno but they couldn't do it and I wasn't close enough to get in his slipstream at the restart.
In a weekend marked by a string of shunts, rookie Jaime Alguersuari crashed spectacularly through a trackside sign to bring out the safety car on lap 43.  Rosberg pitted under the safety car and went on to finish 5th behind Kimi Raikkonen.
Barrichello and Button picked up the final two points-paying positions behind Nick Heidfeld.
Button now goes into Brazil 14 points ahead of Barrichello and 16 points ahead of Vettel.  In 2007 Kimi Raikkonen was 17 points behind Lewis Hamilton with two races to go and he ended up winning the Championship.
2009 Japanese Grand Prix Race Results
| Pos | Driver | Team | Grid | Time | Points |
| --- | --- | --- | --- | --- | --- |
| 1 | Sebastian Vettel | Red Bull-Renault | 1 | 28:20.443 | 10 |
| 2 | Jarno Trulli | Toyota | 2 | 28:25.243 | 8 |
| 3 | Lewis Hamilton | McLaren-Mercedes | 3 | 28:26.843 | 6 |
| 4 | Kimi Raikkonen | Ferrari | 5 | 28:28.343 | 5 |
| 5 | Nico Rosberg | Williams-Toyota | 7 | 28:29.143 | 4 |
| 6 | Nick Heidfeld | BMW Sauber | 4 | 28:29.943 | 3 |
| 7 | Rubens Barrichello | Brawn-Mercedes | 6 | 28:31.043 | 2 |
| 8 | Jenson Button | Brawn-Mercedes | 10 | 28:31.843 | 1 |
| 9 | Robert Kubica | BMW Sauber | 9 | 28:32.143 | 0 |
| 10 | Fernando Alonso | Renault | 16 | 28:33.443 | 0 |
| 11 | Heikki Kovalainen | McLaren-Mercedes | 11 | 28:34.143 | 0 |
| 12 | Giancarlo Fisichella | Ferrari | 14 | 28:34.943 | 0 |
| 13 | Adrian Sutil | Force India-Mercedes | 8 | 28:35.343 | 0 |
| 14 | Vitantonio Liuzzi | Force India-Mercedes | 18 | 28:36.143 | 0 |
| 15 | Kazuki Nakajima | Williams-Toyota | 15 | 28:38.343 | 0 |
| 16 | Romain Grosjean | Renault | 17 | lapped | 0 |
| 17 | Mark Webber | Red Bull-Renault | 19 | lapped | 0 |
| RET | Jaime Alguersuari | Toro Rosso-Ferrari | 12 | crash, 43 laps | 0 |
| RET | Sebastien Buemi | Toro Rosso-Ferrari | 13 | retired, 11 laps | 0 |
| RET | Timo Glock | Toyota | 20 | did not start, 0 laps | 0 |
Image: Red Bull