Formula One is alive and well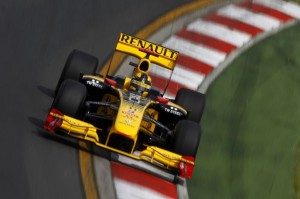 The reports of Formula One's death have been greatly exaggerated.
I said after the Bahrain Grand Prix that judging the entire Formula One season after one race was premature and the thrilling Australian Grand Prix just proves that Formula One is far from dull.
The race was filled with action throughout and one could argue that it was the new rules that added to the excitement. Without having to stop for fuel, drivers had to decide whether to come into the pits for fresh tyres and risk losing places or stay out on worn tyres and hope to maintain their position.
An early gamble on switching to slicks and a smooth driving style meant that Jenson Button only had to stop once and was able to dominate the race from an early stage.
Further back in the field there was all kinds of action. Lewis Hamilton drove spectacularly well and if it wasn't for a questionable decision to stop for fresh tyres and Mark Webber running into the back of him on lap 56 there would almost certainly have been two McLaren drivers on the podium.
Schumacher had another disappointing race spending most of it fighting with the Toro Rosso of Alguersuari. At one point he was even passed by the newcomer Lotus and Virgin cars.
Lewis's charging drive also provided a classic bit of Brundle commentary:
It was an invitation to pass and Hamilton RSVP'd immediately.
Kubica's second place finish is encouraging for both Renault and the talented Pole and Felipe Massa's refusal to yield to his team mate shows that after only two races there is no number one driver at Ferrari.
The Australian Grand Prix proves that Formula One is still as exciting as ever, perhaps even more so. Let's hope the excitement continues in Kuala Lumpur next week.
2010 Australian Grand Prix Race Results
| Pos | Driver | Team | Grid | Time | Points |
| --- | --- | --- | --- | --- | --- |
| 1 | Jenson Button | McLaren-Mercedes | 4 | 1:33:36.531 | 25 |
| 2 | Robert Kubica | Renault | 9 | +00:12.034 | 18 |
| 3 | Felipe Massa | Ferrari | 5 | +00:14.488 | 15 |
| 4 | Fernando Alonso | Ferrari | 3 | +00:16.304 | 12 |
| 5 | Nico Rosberg | Mercedes GP | 6 | +00:16.683 | 10 |
| 6 | Lewis Hamilton | McLaren-Mercedes | 11 | +00:29.989 | 8 |
| 7 | Vitantonio Liuzzi | Force India-Mercedes | 13 | +00:59.847 | 6 |
| 8 | Rubens Barrichello | Williams-Cosworth | 8 | +01:00.536 | 4 |
| 9 | Mark Webber | Red Bull-Renault | 2 | +01:07.319 | 2 |
| 10 | Michael Schumacher | Mercedes GP | 7 | +01:09.391 | 1 |
| 11 | Jaime Alguersuari | Toro Rosso-Ferrari | 17 | +01:11.301 | 0 |
| 12 | Pedro de la Rosa | BMW Sauber-Cosworth | 14 | +01:14.084 | 0 |
| 13 | Heikki Kovalainen | Lotus-Cosworth | 19 | lapped | 0 |
| 14 | Karun Chandhok | Hispania-Cosworth | 24 | lapped | 0 |
| 15 | Timo Glock | Virgin-Cosworth | 21 | retired, 41 laps | 0 |
| 16 | Lucas di Grassi | Virgin-Cosworth | 22 | retired, 26 laps | 0 |
| 17 | Sebastian Vettel | Red Bull-Renault | 1 | retired, 25 laps | 0 |
| 18 | Adrian Sutil | Force India-Mercedes | 10 | retired, 9 laps | 0 |
| 19 | Vitaly Petrov | Renault | 18 | retired, 9 laps | 0 |
| 20 | Bruno Senna | Hispania-Cosworth | 23 | retired, 4 laps | 0 |
| 21 | Sebastien Buemi | Toro Rosso-Ferrari | 12 | crash, 1 laps | 0 |
| 22 | Nico Hulkenberg | Williams-Cosworth | 15 | crash, 1 laps | 0 |
| 23 | Kamui Kobayashi | BMW Sauber-Cosworth | 16 | crash, 1 laps | 0 |
| 24 | Jarno Trulli | Lotus-Cosworth | 20 | retired, 0 laps | 0 |
Image: Renault F1