Another racy weekend in China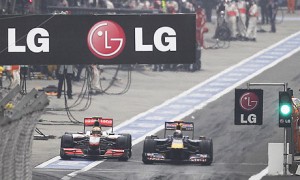 Those people who declared Formula One dull and processional after the opening round in Bahrain must be eating their words now.
Today's rain-splashed Chinese Grand Prix proved to be yet another exciting race with Jenson Button powering to his second victory of the season thanks to another successful tyre strategy. While team mate Lewis Hamilton made a sudden dive into the pits for intermediates, Button stayed out on slicks. Hamilton said:
Jenson made the better choice on the tyres. It wasn't easy making the call when to change the tyres. I chose very late halfway around the last corner. Clearly it wasn't the right choice.
But while it may have been the wrong decision, Hamilton again showed what an amazing talent he is by charging back through the field to finish second despite four pit stops.
And is it just me or is the quality of the stewards' decisions much better this year? There was a mighty battle between Hamilton and Vettel as they both struggled to regain lost places; a battle that continued down the pit exit when Hamilton was released at virtually the same time as Vettel.
Hamilton got exuberantly sideways as he tried to dive in front of Sebastian and the German then proceeded to squeeze Hamilton perilously close to the wheel guns of the other pit crews.
In previous years this probably would have resulted in a post-race 25 second penalty or place drop, potentially altering the very result of the race itself. As it turned out the two drivers only got a stern talking to.
It seems the policy of having an experienced race driver to advise the stewards at each race is a big improvement.
There is now a mini holiday in F1 which is just as well as the eruption of Iceland's Eyjafjallajoekull volcano continues to close European airspace. Until it reopens the teams are stuck in the Far East.
2010 Chinese Grand Prix Race Results
| Pos | Driver | Team | Grid | Time | Points |
| --- | --- | --- | --- | --- | --- |
| 1 | Jenson Button | McLaren-Mercedes | 5 | 1:46:42.163 | 25 |
| 2 | Lewis Hamilton | McLaren-Mercedes | 6 | +00:01.530 | 18 |
| 3 | Nico Rosberg | Mercedes GP | 4 | +00:09.484 | 15 |
| 4 | Fernando Alonso | Ferrari | 3 | +00:11.869 | 12 |
| 5 | Robert Kubica | Renault | 8 | +00:22.213 | 10 |
| 6 | Sebastian Vettel | Red Bull-Renault | 1 | +00:33.310 | 8 |
| 7 | Vitaly Petrov | Renault | 14 | +00:47.600 | 6 |
| 8 | Mark Webber | Red Bull-Renault | 2 | +00:52.172 | 4 |
| 9 | Felipe Massa | Ferrari | 7 | +00:57.796 | 2 |
| 10 | Michael Schumacher | Mercedes GP | 9 | +01:01.749 | 1 |
| 11 | Adrian Sutil | Force India-Mercedes | 10 | +01:02.874 | 0 |
| 12 | Rubens Barrichello | Williams-Cosworth | 11 | +01:03.665 | 0 |
| 13 | Jaime Alguersuari | Toro Rosso-Ferrari | 12 | +01:11.416 | 0 |
| 14 | Heikki Kovalainen | Lotus-Cosworth | 21 | lapped | 0 |
| 15 | Nico Hulkenberg | Williams-Cosworth | 16 | lapped | 0 |
| 16 | Bruno Senna | Hispania-Cosworth | 23 | lapped | 0 |
| 17 | Karun Chandhok | Hispania-Cosworth | 24 | lapped | 0 |
| 18 | Jarno Trulli | Lotus-Cosworth | 20 | retired, 26 laps | 0 |
| 19 | Lucas di Grassi | Virgin-Cosworth | 22 | retired, 8 laps | 0 |
| 20 | Pedro de la Rosa | BMW Sauber-Ferrari | 17 | retired, 7 laps | 0 |
| 21 | Sebastien Buemi | Toro Rosso-Ferrari | 13 | crash, 1 laps | 0 |
| 22 | Kamui Kobayashi | BMW Sauber-Ferrari | 15 | crash, 1 laps | 0 |
| 23 | Vitantonio Liuzzi | Force India-Mercedes | 18 | crash, 1 laps | 0 |
| 24 | Timo Glock | Virgin-Cosworth | 19 | retired, 1 laps | 0 |
Image: Greg Baker/AP