Who are Ferrari kidding?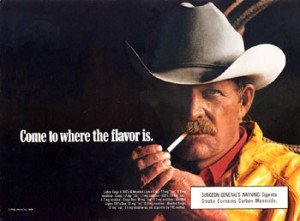 The word Marlboro may not be printed anywhere on the chassis, the but Ferrari F10 still looks like a giant pack of smokes.
Last week a report in the Times claimed Ferrari are using subliminal advertising in the 'barcode' design on their Formula One cars and drivers' overalls.
Despite tobacco advertising being banned from the sport, Philip Morris have a contract with Ferrari until 2011. Ferrari also remain the only team to have a tobacco brand in their official name: Scuderia Ferrari Marlboro.
Today Ferrari president Luca di Montezemolo called it all a bunch of nonsense:
Frankly, I find this argument completely pointless and it is verging on the ridiculous to claim that the colour red or a graphic design which shows a bar code could induce people to smoke.
Now I'm not saying that when I look at a Ferrari I feel the sudden urge to light up, but the Marlboro red and white is so synonymous with Ferrari that I honestly almost see the Marlboro logo there.
I'm not saying Ferrari should be forced to paint over the barcode. I can't see it actually encouraging any impressionable young people to smoke. And let's not forget tobacco advertising gave us one of the greatest liveries in the history of the sport.
But let's be honest. A tobacco company is not going to spend millions of dollars on sponsorship unless it thinks it is going to promote it's brand. Ferrari is not a charity and Philip Morris is not stupid.
Every time someone reads the Scuderia's official title or sees those oddly spaced white stripes, Marlboro will be getting their money's worth.
Update: This reminded me of a great animation from Spanish paper, Marca. Watch how the Marlboro logo morphs into a barcode in 2007…