Red Bull keep things interesting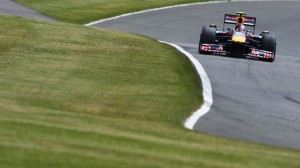 Sebastian Vettel and Mark Webber secured Red Bull's second 1-2 finish of the season at the British Grand Prix on Sunday.
As indicated by Vettel's incredible pace in qualifying, the young German was in another class for the whole race, crossing the line 15 seconds ahead of team mate Mark Webber, who was followed by Rubens Barrichello.
From the moments the lights went out in front of a capacity crowd at Silverstone, Vettel's win was never really in doubt.  Rubens Barrichello managed to hold second position off the line but lost out to Mark Webber in the first set of pit stops.
Championship leader Jenson Button got squeezed at the start, dropping back to P9 behind Jarno Trulli and then struggled to keep the heat in his hard tyres, eventually finishing the race in 6th:
On the hard tyres the car just didn't work and I couldn't get any tyre temperature. That's the way our car is in cooler temperatures.
Lewis Hamilton started 18th and  finished a slightly less miserable 16th.
While the local fans may have been hoping for a Brit to win what may be the last F1 race at Silverstone, the Red Bull resurgence has injected a bit more excitement into what was fast becoming a foregone conclusion.  All those extra bits Adrian Newey bolted onto the RB5 allowed Sebastian Vettel to close his gap to Button from 32 points to 25 points and the 1-2 finish sees Red Bull narrow Brawn's lead in the Constructors' Championship from 39.5 points to 30.5 points.
The Championship is far from over.
2009 British Grand Prix Race Results
| Pos | Driver | Team | Grid | Time | Points |
| --- | --- | --- | --- | --- | --- |
| 1 | Sebastian Vettel | Red Bull-Renault | 1 | 1:22:49.328 | 10 |
| 2 | Mark Webber | Red Bull-Renault | 3 | 1:23:04.516 | 8 |
| 3 | Rubens Barrichello | Brawn-Mercedes | 2 | 1:23:30.483 | 6 |
| 4 | Felipe Massa | Ferrari | 11 | 1:23:34.371 | 5 |
| 5 | Nico Rosberg | Williams-Toyota | 7 | 1:23:35.243 | 4 |
| 6 | Jenson Button | Brawn-Mercedes | 6 | 1:23:35.613 | 3 |
| 7 | Jarno Trulli | Toyota | 4 | 1:23:57.635 | 2 |
| 8 | Kimi Raikkonen | Ferrari | 9 | 1:23:58.950 | 1 |
| 9 | Timo Glock | Toyota | 8 | 1:23:59.151 | 0 |
| 10 | Giancarlo Fisichella | Force India-Mercedes | 16 | 1:24:00.850 | 0 |
| 11 | Kazuki Nakajima | Williams-Toyota | 5 | 1:24:03.351 | 0 |
| 12 | Nelson Piquet Jr | Renault | 14 | lapped | 0 |
| 13 | Robert Kubica | BMW Sauber | 12 | lapped | 0 |
| 14 | Fernando Alonso | Renault | 10 | lapped | 0 |
| 15 | Nick Heidfeld | BMW Sauber | 15 | lapped | 0 |
| 16 | Lewis Hamilton | McLaren-Mercedes | 18 | lapped | 0 |
| 17 | Adrian Sutil | Force India-Mercedes | 20 | lapped | 0 |
| 18 | Sebastien Buemi | Toro Rosso-Ferrari | 19 | lapped | 0 |
| RET | Sebastien Bourdais | Toro Rosso-Ferrari | 17 | retired, 37 laps | 0 |
| RET | Heikki Kovalainen | McLaren-Mercedes | 13 | retired, 36 laps | 0 |
Image: Red Bull / Getty