Hamilton takes last minute pole in Abu Dhabi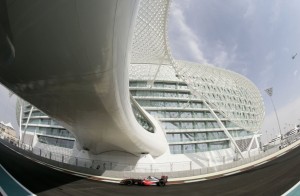 The McLarens have looked strong all weekend in Abu Dhabi but while Heikki Kovalainen stopped in Q2 with drive problems it all came together for Lewis Hamilton as he took a stunning pole position for Sunday's season-ending Grand Prix.
Lewis looked completely at home on the new circuit and as twilight faded quickly to darkness he was nearly a second faster than the two Red Bulls of Sebastian Vettel and Mark Webber behind him.
Speaking after qualifying, Lewis said:
The car is the best it has been all year. It was a smooth lap, and it just kept getting better and better.
Rubens Barrichello beat his team mate, and new World Champion, Jenson Button to fourth place on the grid.
Jarno Trulli got his Toyota up into sixth place ahead of the two BMWs with Rosberg and Buemi rounding out the top 10.
Ferrari had a disappointing session with Fisichella dropping out in Q1 in last place and Raikkonen only making it to P11.
2009 Formula One Abu Dhabi Grand Prix Qualifying Results
| Pos | Driver | Team | Time |
| --- | --- | --- | --- |
| 1 | Lewis Hamilton | McLaren-Mercedes | 01:40.948 |
| 2 | Sebastian Vettel | Red Bull-Renault | 01:41.615 |
| 3 | Mark Webber | Red Bull-Renault | 01:41.726 |
| 4 | Rubens Barrichello | Brawn-Mercedes | 01:41.786 |
| 5 | Jenson Button | Brawn-Mercedes | 01:41.892 |
| 6 | Jarno Trulli | Toyota | 01:41.897 |
| 7 | Robert Kubica | BMW Sauber | 01:41.992 |
| 8 | Nick Heidfeld | BMW Sauber | 01:42.343 |
| 9 | Nico Rosberg | Williams-Toyota | 01:42.583 |
| 10 | Sebastien Buemi | Toro Rosso-Ferrari | 01:42.713 |
| 11 | Kimi Raikkonen | Ferrari | 01:40.726 |
| 12 | Kamui Kobayashi | Toyota | 01:40.777 |
| 13 | Heikki Kovalainen | McLaren-Mercedes | 01:40.983 |
| 14 | Kazuki Nakajima | Williams-Toyota | 01:41.148 |
| 15 | Jaime Alguersuari | Toro Rosso-Ferrari | 01:41.689 |
| 16 | Fernando Alonso | Renault | 01:41.667 |
| 17 | Vitantonio Liuzzi | Force India-Mercedes | 01:41.701 |
| 18 | Adrian Sutil | Force India-Mercedes | 01:41.863 |
| 19 | Romain Grosjean | Renault | 01:41.950 |
| 20 | Giancarlo Fisichella | Ferrari | 01:42.184 |
Image: McLaren