Spain: Fuel adjusted qualifying times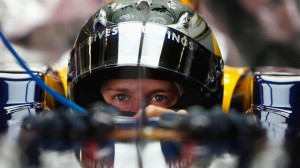 The proposed 2010 F1 Sporting Regulations will ban refuelling during the race.  This means that next year we will see a return to 'proper' qualifying where all cars run as light as possible to go as fast as possible.
As it stands now, those cars that make it through to the final qualifying session must use the fuel they qualified with while the rest of the field may refuel before the race.
In previous years this meant you could never be sure if a fast qualifying time was genuine or whether they were showboating with a light fuel load.  However, since the FIA started publishing the car weights after qualifying we can determine the relative performance of the top ten grid slots.
Below is a graph showing the actual top ten qualifying times as well as those times adjusted for the weight of fuel each car is carrying.  The graph assumes a standard lap time cost of 0.3 seconds per 10kg of fuel.
The graph shows that while Jenson Button is quick, Vettel was even quicker and Massa's adjusted time is almost identical to Barrichello's.
It's going to be a battle between the Brazillians on the second row into the first corner!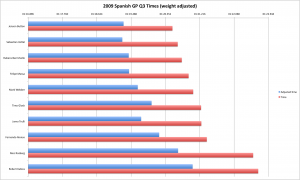 2009 Spanish Grand Prix car weights
Image: Getty