Prediction game: Round 3 – China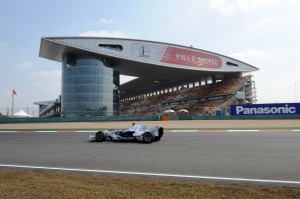 The last Chinese Grand Prix was only six months ago but thanks to a change in the 2009 schedule F1 returns to Shanghai this weekend and it is time for round 3 of the f1buzz prediction game.
Like Sepang, the Shanghai International Circuit is a modern, smooth track designed by Hermann Tilke.  The unique first corner with its constantly tightening radius can be hard on tyres so, as in Australia, tyres could be critical.
KERS will play a role, too.  The first two races showed that KERS is as useful for defending a position as it is for overtaking so if Renault, Ferrari or McLaren can get in front they could be hard to pass.
But the favourites are still likely to be the 'diffuser' teams that dominated the first two races.  Brawn GP will be hoping to make it a hat trick in China but Red Bull and BMW won't make it easy for them.
The other big question mark that is looming over Brawn, Toyota and Williams is the outcome of the FIA Court of Appeal proceedings into the legality of the controversial diffusers the three teams are running.  The decision is expected on Wednesday afternoon so you might want to hold your predictions until then.  Of course, the deadline for predictions is qualifying on Saturday so there is plenty of time!
To enter, leave a comment on this post with your driver predictions for the race in the following format:
Pole:
First:
Second:
Third:
Fastest lap:
Here is the full list of drivers names.
Good luck!