Prediction game: Round 5 results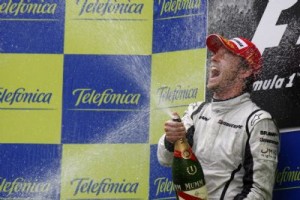 The Spanish Grand Prix has a reputation for being a bit processional.  Although the Circuit de Catalunya is one of the most technical circuits on the calendar, all the teams test there so the drivers know it inside out and the race engineers know just how to set their car up.
This year, however, was anything but processional.  Thanks to a big incident on the first lap, the safety-car was deployed for only the fifth time in the race's eighteen year history and the combination of KERS and new aerodynamics allowed for a bit more overtaking.
In the f1buzz prediction game, most people correctly picked Button to win or at least a Brawn GP podium but Correa's last-minute change of heart netted him a huge 23 points to jump up to third place in the standings.
To make things a bit more interesting, I've decided to award prizes to the first three places in the prediction game (my scores won't be included.)  First prize is a 1:43 scale Minichamps replica of the winning car/driver.  Second and third will each receive a copy of the 2009 Formula One Season Review DVD.
The next Grand Prix is Monaco in two weeks time, and I'll be there!
Image: Brawn GP