Webber takes maiden victory at Nürburgring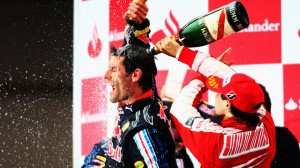 Fifty years after Jack Brabham won his first Grand Prix race in Monaco and twenty-eight years after Alan Jones's victory in the US Grand Prix West, Mark Webber has finally broken his Formula One duck.
Despite making contact with both Rubens Barrichello and Lewis Hamilton before the first corner and then suffering a subsequent drive-through penalty, the Australian went on to win the German Grand Prix ahead of team mate Sebastian Vettel.
Ferrari's Felipe Massa finished third and claimed his first podium of the season.
The third 1-2 finish for Red Bull places the team less than twenty points behind Contructors' Championship leaders Brawn GP.  It also boosts both Red Bull drivers ahead of Rubens Barrichello in the Drivers' Championship.  Vettel is 21 points behind Jenson Button and Mark Webber is just 1.5 points behind Vettel.
After eight years in Formula One Mark Webber was clearly delighted to finally win a race:
It's an incredible day. I wanted to win so badly after Silverstone, as I thought I had a good chance there, then after yesterday's pole I knew I was in a good position to try and win the race today. The only thing that I thought was going to test me was the rain, but even that held off.
Lewis Hamilton made an incredible KERS assisted start to almost lead going into the first corner but a puncture from clipping Mark Webber's front wing put an end to any podium hopes he may have had.
Starting from a career-best seventh on the grid Adrian Sutil looked to be having a good day but in shades of last year's Monaco Grand Prix Kimi Raikkonen turned in on Sutil after the German exited the pits forcing Sutil to stop again for a new nose.  Force India have been looking stronger and stronger this season but it seems their first points will have to wait for another race.
But the most pissed-off driver award goes to Rubens Barrichello.  After taking the lead at the start he finished in sixth behind team mate Jenson Button and his comments after the race clearly show who he thinks is at fault:
I did all I had to do. I went first on the first corner and then they made me lose the race. If it is really what's going on, we're going to end up losing both championships. I feel sorry for myself, the team. To be very honest, I wish I could get on the plane and go home. I don't want to talk to anyone in the team. It will be all 'blah blah blah' and I don't want to hear that.
2009 German Grand Prix Race Results
| Pos | Driver | Team | Grid | Time | Points |
| --- | --- | --- | --- | --- | --- |
| 1 | Mark Webber | Red Bull-Renault | 1 | 1:36:43.310 | 10 |
| 2 | Sebastian Vettel | Red Bull-Renault | 4 | 1:36:52.562 | 8 |
| 3 | Felipe Massa | Ferrari | 8 | 1:36:59.216 | 6 |
| 4 | Nico Rosberg | Williams-Toyota | 15 | 1:37:04.409 | 5 |
| 5 | Jenson Button | Brawn-Mercedes | 3 | 1:37:06.919 | 4 |
| 6 | Rubens Barrichello | Brawn-Mercedes | 2 | 1:37:07.798 | 3 |
| 7 | Fernando Alonso | Renault | 12 | 1:37:08.166 | 2 |
| 8 | Heikki Kovalainen | McLaren-Mercedes | 6 | 1:37:41.402 | 1 |
| 9 | Timo Glock | Toyota | 20 | 1:37:44.710 | 0 |
| 10 | Nick Heidfeld | BMW Sauber | 11 | 1:37:45.210 | 0 |
| 11 | Giancarlo Fisichella | Force India-Mercedes | 18 | 1:37:45.637 | 0 |
| 12 | Kazuki Nakajima | Williams-Toyota | 13 | 1:37:46.187 | 0 |
| 13 | Nelson Piquet Jr | Renault | 10 | 1:37:51.638 | 0 |
| 14 | Robert Kubica | BMW Sauber | 16 | 1:37:52.865 | 0 |
| 15 | Adrian Sutil | Force India-Mercedes | 7 | 1:37:55.210 | 0 |
| 16 | Sebastien Buemi | Toro Rosso-Ferrari | 17 | 1:38:13.510 | 0 |
| 17 | Jarno Trulli | Toyota | 14 | 1:38:14.210 | 0 |
| 18 | Lewis Hamilton | McLaren-Mercedes | 5 | 1:38:14.210 | 0 |
| RET | Kimi Raikkonen | Ferrari | 9 | 1:38:14.210 | 0 |
| RET | Sebastien Bourdais | Toro Rosso-Ferrari | 19 | 1:38:14.210 | 0 |
Image: Red Bull/Getty