Mark Webber: f***king beauty!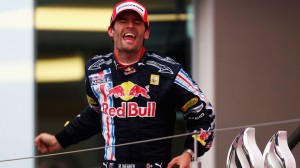 No other Formula One driver has had to wait so long to score their first Grand Prix victory.  Rubens Barrichello took 124 starts, Jarno Trulli, 117 and Jenson Button, 113.  For Mark Webber it took 130 races and eight years but he finally did it.
And boy was he relieved.
We get a lot more of the radio communications being broadcast now and it's always interesting to hear the conversations that go on between the teams and drivers.  During the race we hear drivers argue about whether to pit or not or give advice on which tyres to use next.
After the race the director always switches to the winning driver.  Usually there will be much congratulating between team and driver, perhaps with the occasional shout of victory, but of course it is being broadcast live so you can never be sure exactly what is going to be said.
For Mark Webber, as Martin Brundle commented, there was nothing scripted about his reaction to claiming his first Grand Prix victory and becoming only the third Australian ever to win in Formula One.
Best.  Radio communication.  Ever.
Image: Red Bull/Getty