USF1: Wild speculation!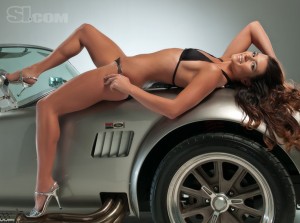 A formal announcement from the rumoured new Formula One team, USF1, is expected later this month according to the Charlotte Observer.  The two principals behind USF1 are Ken Anderson and Peter Windsor and they plan to promote the team as "Made in USA."  The car will be US-built and be driven by American drivers.  According to Anderson, the team is already close to signing one driver.
The fact that there is very little information about USF1 (the official website has just a logo and an email address) naturally leads to speculation.  Is now the best time to be starting a new team?  Why start from scratch when you can have Honda for £1?  Why limit yourself to only using American drivers?  And do Americans even care about Formula One?
Assuming the team is on the grid in 2010 what kind of car might we see and who could be piloting it?
The car
The team will be based in Charlotte, North Carolina which has a big NASCAR industry and, according to Anderson, "90 percent of the technology that exists in F1 comes from the U.S. anyway."  But what about the engine?  I suppose Cosworth would be the most likely choice, possibly badged as Ford.  I can't see any of the US car manufacturers wanting to develop a new F1 engine in the current economic climate and while Cosworth was originally a British company, it is now owned by the Champ Car World Series owners Gerald Forsythe and Kevin Kalkhoven so it would probably satisfy the "Made in America" requirement.  A Cosworth V10 powered Ford's Jaguar team before it was sold to Red Bull in 2004.
The Driver
The choice of driver could be controversial.  Americans haven't made much impact in Formula One since Mario Andretti won the 1978 Championship.  Scott Speed had a largely unsuccessful time at Toro Rosso but he would have to be considered as he is the only American driver with recent F1 experience.
There are other young drivers in the American open-wheel series that are possibilities: Graham Rahal, son of 1986 Indianapolis 500 winner Bobby Rahal and Marco Andretti, son of 1991 IndyCar World Series champion Michael Andretti and the grandson of  Mario Andretti.  Andretti finished second in the 2006 Indianapolis 500 in the second closest finish in the race's history.
But a more interesting choice could be Danica Patrick.  Patrick was named the Rookie of the Year for both the 2005 Indianapolis 500 and the 2005 IndyCar Series season and she became the first woman to win an IndyCar race at Japan's Twin Ring Motegi in 2008.
Patrick has had some criticism of her driving ability and the fact that, like other female athletes, she has been willing to be marketed on her looks.  But Former IRL Champion Tony Stewart thinks she's got talent.  She can obviously win races and was actually scheduled to test with Honda at the end of last year.   She has said she is keen to move to F1 and after those superbowl ads no team should have trouble attracting sponsorship with her on-board.
Will it happen?
A lot of people doubt whether anything will come of the rumours but I think there's a good chance the team could be on the grid in 2010 although, if they are,  I'm not so sure whether they will keep the "Made in America" theme for more than the first year.
Image: Sports Illustrated