That's not cheating. It's pushing the technical requirements!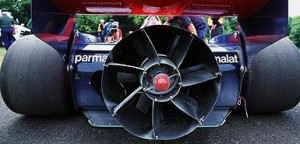 The Official Formula 1 Website has an interview with Niki Lauda and Bernie Ecclestone where they talk about Flavio Briatore and the Renault race fixing scandal  and reminisce about the good old days.
Back in the 70's you didn't cheat by purposely crashing into a wall.  No, you cheated by building an obviously illegal car with a whopping great suction fan on the back, winning one race and then withdrawing it before it could be declared illegal:
Q: How were the two of you working together in the years 1978 and 1979?
NL: We cheated together!
BE: Never!
NL: We did. Remember the Swedish Grand Prix in 1978 when we were running the car with the ventilator [the famous Brabham BT46B 'fan' car]. I won with that car.
BE: Stop. That was not cheating. It was pushing the technical requirements to the limit. You were able to keep that victory. Later on they banned the ventilator. It was much too good for the time.
NL: True. At that time I was a bit stupid. All practice and qualifying I had to drive with a 200-litre fuel load, while all the others where low on fuel. I was fuming. I only made it to P12 on the grid. In the course of the race I knew why: so nobody would guess how fast the car really was – otherwise they would have banned it before the start.
BE: Thanks Mr Lauda. People from other teams came to our pits for a little spying, so I said to (Brabham team manager) Herbie Blash very audibly, 'De-fuel the car'. So they all were putting their minds at rest when they saw our meagre qualifying time. They had no idea that we didn't de-fuel the car.