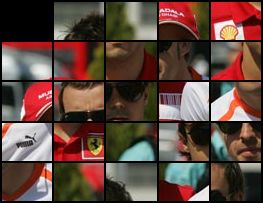 Formula One has never been able to keep a secret and today the latest worst kept secret was finally confirmed: Fernando Alonso will drive for Ferrari.
Alonso's contract is for three seasons starting 2010, partnering Fellipe Massa with Giancarlo Fisichella as reserve driver.
There has long been speculation that Kimi Raikkonen would make way for Alonso next year (a year before his contract was up) but Felipe Massa's accident and then the Renault race fixing investigation held up the announcement which was expected at Monza.
Like one of those sliding puzzles, Alonso's move to Ferrari now frees up a space at Renault and the game of musical chairs can begin.  Where will everyone be sitting when the music stops and who will be left standing?
McLaren say nothing has been decided yet but there are rumours that Kimi may return to the Silver Arrows in place of fellow Finn Kovalainen (and that Spanish bank Santander will pay Kimi's 2010 Ferrari salary.)
Robert Kubica has been tipped to take over Alonso's seat at Renault while Nico Rosberg could switch places with Rubens Barrichello at Brawn.
While Adrian Sutil will probably stay at Force India, Tonio Liuzzi may be under pressure from Nick Heidfeld to keep his seat there.
The good news for those drivers worried about losing their seats is that there will (hopefully) be at least three new teams on the grid next year.  None of them have announced their driver lineup yet but McLaren test driver Pedro de la Rosa  has been linked with Campos while Manor or Lotus could provide a way back in to F1 for BBC commentator Anthony Davidson.  I actually think Davidson is a really good commentator but I also think his Formula One career was prematurely interrupted just as it seemed to be getting off the ground.
Somewhat surprisingly we may even see Nelson Piquet Jr return in 2010.  Manor team boss, John Booth, could offer the Brazilian a drive in 2010.  He was quoted by the Telegraph as saying (without a hint of irony):
I've not spoken to him at the moment, but he's a smashing little driver. I've no personal problems with him, but it is unclear what his current position is with regards sponsorship