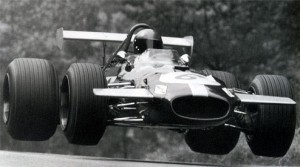 Brabham has become the latest hopeful to submit an entry for the 2010 Formula One World Championship.
Last Thursday, the new team released a statement announcing its application as a 'cost cap Formula One team' for 2010.
This brings to 10 the number of new teams that have announced their intention to compete in the Championship next year.  Of the current F1 teams only Williams and Force India have signed up unconditionally while the other FOTA teams submitted a joint application with a number of conditions attached.
The FIA is due to announce the approved list of competitors for 2010 on June 12 and with space on the grid for only 13 teams next year not everyone who wants to race is going to make the cut.
Here's a quick rundown on the new entries.
Brabham
The new entry using the famous Brabham name is not the same team that Australian Jack Brabham founded in 1960 and went on to win 2 Constructors' Championships and 4 Drivers' Championships.  In 2008, German tool company Formtech bought the assets of Super Aguri when it went into administration.  Formtch's owner, Franz Hilmer, intends to run the new team from Super Aguri's old Leafield facilities.
Hilmer claims he owns the rights to Brabham Grand Prix Limited, a claim that seems to be disputed by the Brabham family.  A statement issued by Brabham Enterprises Limited says:
Sir Jack Brabham and the Brabham family have expressed their surprise at the recent news reporting that an entry has been submitted for the 2010 FIA Formula One World Championship by Formtech with the intention of operating as Brabham Grand Prix Limited.

The family would like to make it clear that they are in no way involved with Brabham Grand Prix Limited and received no consultation regarding the company's plans to resurrect their historic name in Formula One.

The family is taking legal advice and will take necessary steps to protect their name, reputation and its goodwill.
Prodrive
Founded in 1984 by David Richards, Prodrive started out running rally cars for Porsche, MG and BMW.  In 1990 Prodrive began a successful partnership with Subaru going on to win three World Rally Championships.  Prodrive has also been successful in sports car racing, first with Ferraris and later in collaboration with Aston Martin.
David Richards has previous Formula One experience as team principal of the Benetton and BAR Formula One teams and in 2006 Prodrive was selected to compete in the 2008 Formula One World Championship, however a protest against the team's planned used of customer cars resulted in Prodrive pulling out of Formula One.
It is expected the team will rebrand as Aston Martin in 2012.
Lola
Lola is another team with a long racing history.  Started in 1958, Lola was one of the top chassis suppliers for sports car racing in the 1960's.  In the 1980's and 90's Lola built cars for the Group C racing series and also produced cars for Le Mans-style racing.
Lola's first entry into Formula One was in 1962, supplying the Mk4 to the Bowmaker-Yeoman Racing Team.  In 1997 Lola entered Formula One as a constructor in their own right.  Pressured into competing a year before they were ready, the team only turned up for two Grands Prix and failed to qualify at either.  Lola went into receivership shortly after and was bought by Irish millionaire Martin Birrane.  Since then Lola has produced chassis for IndyCar, Formula 3000 and A1GP.
USF1
There had been rumours about a new US based F1 team for some time before USF1 was officially announced in February.  Run by engineer Ken Anderson and F1 journalist Peter Windsor the team is based in Charlotte, North Carolina with a second European base in Spain.
USF1, or USGPE, plans to promote itself as 'Made in America' using American technology and, if possible, American drivers.
In April, Windsor revealed that the team are looking at using the standard Cosworth V8 engine.
N. Technology
N.Technologywas created to manage the worldwide official sporting activities of the Fiat Auto Group, designing, manufacturing and racing touring cars.  The team finished third in the World Touring Car Championship in 2005, 2006 and 2007 with Alfa Romeo.
N.Technology also designed and produced the Formula Master single-seater.
Team Superfund
Experienced F1 test driver Alex Wurz will become principal of the new Team Superfund.  Wurz drove for Benetton for three seasons before becoming McLaren's third driver.  He replaced Juan Pablo Montoya due to injury in the 2005 San Marino Grand Prix where he finished fourth, eventually being promoted to third when both Honda drivers were disqualified.  He returned to a full-time race seat in 2007 with Williams but retired at the end of the year and is currently test driver for Brawn GP.
On the move into management, Wurz told Autosport:
I was always interested in going into team management, even when I was racing in F1.
Team Superfund is financed by the investment company's Austrian owner, Christian Baha, and it is understood the team would prefer to align themselves with an existing team, based in the UK, rather than build everything entirely from scratch.  Wurz:
While personally I wouldn't want to end up as a pure customer team for years to come, we would prefer to work with an existing team to begin with.
The team plan to use the spec Cosworth engine.
Epsilon Euskadi
Spanish racing team, Epsilon Euskadi is the only major motor sport team from the Basque Country.  Team principal Joan Villadelprat has been involved in Formula One for over thirty years, working with teams such as McLaren, Ferrari and Benetton.
BMW Sauber driver Robert Kubica won the World Series by Renault Championship with the team in 2005.
Villadelprat says the team's F1 entry for 2010 is different from those of the other new entrants:
The difference between ourselves and other people is that, first, we have a project that's different from everybody else's, with a social output, which is what Max Mosley is looking for. We have the mechanics' school, the engineers' school, the lower categories, from karting, Formula Renault 2.0 and the World Series.
I'm not sure if Formula One needs a training company (isn't that what the junior formulas are for?) but the team has financial backing for four years and they are planning to build their own chassis.  Villadelprat:
We are building everything in-house. We have made the investment, something not everybody has, to be able to build everything in-house. This is a new team, built from scratch. I just want the opportunity to be able to produce a good programme.
Campos Meta 1
Spaniard Adrian Campos raced for Minardi in 1987 and 1988, contesting 21 races but only finishing two.  He had more luck in Spanish Touring Cars, winning the Championship in 1994 before going on to form the Campos Grand Prix team.  Fernando Alonso raced for Campos in the 1999 Spanish Euro Open MoviStar by Nissan series.
Campos entered GP2 when it was launched in 2005 and in 2008 won the Teams' Championship before Adrian Campos sold his stake in the team which was then renamed to Barwa Addax.  Campos Racing is also involved in Spanish Formula 3.
The team haven't revealed much detail about their F1 application but Spain's Marca paper has reported that Mexican billionaire Carlos Slim is involved.
Litespeed
British Formula Three team Litespeed has announced a deal with current Lotus owner, David Hunt, to use the historic Lotus name if their F1 application is successful.  Litespeed team principal Nino Judge said:
Team Lotus is synonymous with great British engineering and formula one innovation, which easily demonstrate why ex-Lotus personnel would want to bring this championship-winning name back.
The ex-Lotus personnel he refers to include former Lotus driver Johnny Herbert.  Ex-Force India Chief Technology Officer, Mike Gascoyne, is also involved in the new team.
Like Brabham, though, the new Team Lotus won't be the same team started by Colin Chapman in the 50s and went on to win 7 Constructors' and 6 Drivers' Championships.
March
March Engineering was founded in 1969 by Max Mosley, Alan Rees, Graham Coaker and Robin Herd.  The team was only moderately successful in Formula One, claiming three victories in 207 races, but managed to win the Indianapolis 500 five times in a row from 1983 to 1987.
March also saw success in Formula 2, Formula 3 and sportscar racing before it was wound up in the 1990s.  The company is now owned by the chairman of Swindon Town Football Club.
According to Autosport, the team has nominated Cosworth as its engine supplier.
Categories:
Teams
aston martin, brabham, campos, epsilon euskadi, litespeed, lola, march, prodrive, team superfund, usf1, usgpe