All your Suzuka are belong to us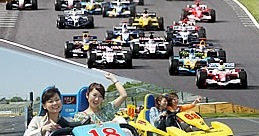 Like a lot of F1 fans I was sorry to see Suzuka dropped from the Formula One calendar in 2007 in favour of Toyota's Fuji Speedway.  With its unique figure 8 layout and demanding corners, Suzuka is one of the great circuits of the world.  It's right up there with Spa as one of the fans' and drivers' favourite tracks.
Thankfully, the Japanese Grand Prix returns to Suzuka this year.  In a statement outlining its 2009 automobile motor sports activities Honda, who own Suzuka, said:
Full-scale renovation work will soon be completed.  As the opening event on April 12, the Circuit will be hosting the Start Suzuka Opening Thanks Day – F1 Kick-off Party. And after a break of two years, the Grand Prix of Japan, Round 15 of the Formula One World Championship, will be held, October 2-4.
"The Start Suzuka Opening Thanks Day – F1 Kick-off Party".  What a great piece of Engrish!  It sounded like so much fun I went to the Suzuka website to see what I could find out.  There wasn't anything there about the F1 Kick-Off Party but it sure made interesting reading.
In June 2006 Suzuka Circuitland Co. Ltd. merged with Twin Ring Motegi Co. Ltd to form Mobilityland Corporation.  According to the website:
Uniting the two enterprises of Suzuka Circuit, which has contributed to the spread of motorsports in Japan, and Twin Ring Motegi, which introduced to Japan the new mobility of American motorsports. By concentrating the power and know-how these two companies have accumulated, we hope to be a business providing joy, fun and excitement to the community through an ever richer mobility culture.
So it's all about mobility, then.  Whatever that is.  Luckily the site has a definition:
People move because they have goals. Community begins when people move to another place and run into other people. Through these moves, they meet different kinds of people and learn about each other; it is there that new cultures and new values are born. We call such movement-related areas "mobility." Pursue convenience, fun, and the value of mobility; have them take root in the lives of many people. This is what we call "mobility culture." One of Mobilityland's main missions is to promote a richer and safer mobility culture in society.
Right, well that clears that up, then.
I'll leave you with a little old-skool Suzuka action and as you watch Ayrton Senna's pole position lap of Suzuka in 1989 remember the Three Joys of the Basic Principles as described in the Mobilityland Philosophy:
The Joy of Buying
The Joy of Selling
The Joy of Creating
Er.  Ok.