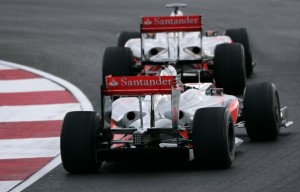 Mark Hughes has written an interesting piece on the ITV F1 website about the problems McLaren have been having with their new car.
McLaren won the 2008 Drivers' Championship and were among the favourites going into the 2009 season after early testing.  But recently the Woking squad have been falling further and further behind the other teams and drivers Lewis Hamilton and Heikki Kovalainen have been lapping a couple of seconds off the pace.  After much speculation team boss Martin Whitmarsh confirmed McLaren weren't sandbagging and those lap times were the best they could do.
But how could such a beautiful car be so slow?  And how could something with a nose like the Renault be faster?  It all comes down to the black art of aerodynamics.  While McLaren have banks of supercomputers running CFD analysis and a state of the art wind tunnel back in Woking, all it takes is one little disturbance in the airflow to effectively "switch off" a perfectly good aero part.
McLaren's problems highlight the importance of aerodynamics in Formula One.  With no development allowed on engines, aerodynamics is where most of an F1 car's speed can be won or lost.  Take the Brawn GP BGP 001; it has the same engine as the McLaren, but better aero and Jenson Button and Rubens Barrichello have been putting in some scorching lap times.
The good news for McLaren fans, according to Hughes, is that once the McLaren engineers find the problem it should be pretty straightforward to fix.  The question is can they find the problem before they give away too many points?
In other aerodynamic developments, the Brawn GP diffuser's legality has been called into question along with the Toyota and Williams.  According to Cologne newspaper Express, the BGP 001 design links the floor with the diffuser in a sneaky (and illegal) way to generate more downforce.  The FIA have already inspected the Toyota and Wiliams cars and found them, in their opinion, legal.  As Max Mosley says:

The current FIA view is that Williams and Toyota have been clever and found a loophole in the rules. It's probably wrong, but they've exploited the wording of the rules in a clever way.
But because of the way these things work, the teams have to wait until Melbourne if they want to lodge an official protest.
And finally, Williams have decided to remove the cockpit-mounted 'skate fins' that appeared on their car in testing.  It seems like FIA technical delegate Charlie Whiting didn't like the safety implications of two massive spikes on either side of the driver's head and I can't say I disagree.  They did look kind of cool though.