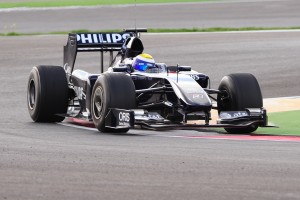 Williams have announced they are extending their partnership with paint supplier PPG who have been supplying paint for Williams race cars since 2003.
When you look at a Formula One car the paint job is one of the first things you notice and getting it right can turn an average looking car into a piece of art.  But it's not just about making a car look good.
While McLaren recently highlighted their paint partner AkzoNobel's advances in reducing the time required to paint a new part, Williams claim that PPG have developed a paint that can give important weight savings that will translate to faster lap times on the track.
According to the Williams press release:
Every weight saving on our race cars makes a real and direct contribution to lap time and paint finishes are part of this consideration. PPG have consistently helped us maintain our finish standards while reducing the weight demand. This winter we have worked in tandem on another progression in the painting of the FW31 race cars which has enabled us to use less primer and no lacquer coat, providing another significant step forward. We value their important contribution and this new and extended agreement is both commercially and competitively welcome.
I have no doubt that, after losing the sponsorhip of Baugur, Lenovo and Petrobras, the agreement is commercially welcome but can a significant weight saving really be made from paint?
There is a (probably apocryphal) story that this is how the 1934 Mercedes Silver Arrows racing cars got their colour.  Before the introduction of sponsorship, racing cars had always been painted in the traditional colour for their country; Britain was British Racing Green, France was French Blue and Italy was, of course, Rosso Corsa.  German cars were painted White.  From 1934 onwards a maximum weight limit of 750kg was introduced and Mercedes-Benz found that their W25 weighed 751kg.  After puzzling over what they could do to lose weight, racing manager Alfred Neubauer came up with the idea of scraping off all the paint to leave the silver aluminium exposed.  This supposedly saved the 1kg required and the Silver Arrows were born.