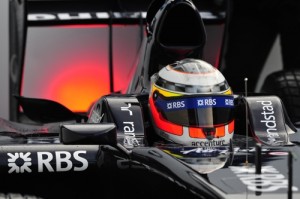 Williams have ruled out using KERS at the first race of the season in Melbourne at the end of March and as the Malaysian Grand Prix is the following weekend it is unlikely they will run the system there, either.
KERS devices store energy created under braking which can then be converted into power at the touch of a button, giving a boost of up to 80hp.  Williams have chosen to go down a different route with their KERS development; while most teams have opted for an electronic device, Williams are using a kinetic version that uses a flywheel instead of storing electrical energy in batteries.
A Williams spokesman said:
We're clear that we're not going to be using it in Australia but not clear when we will use it.
Integrating KERS into an F1 car raises a number of complications.  Electrical devices generate significant heat which must be dissipated somehow, a problem made harder by the new aero rules banning 'gills' in the bodywork. Williams's kinetic device shouldn't have the same heat problems as the electrical devices but it still has what is probably the biggest drawback to using KERS: weight.
To get the most out of the slick tyres being introduced in 2009 an F1 car's weight needs to be shifted forward.  A KERS device takes up weight that could be used for ballast to better balance the car.  It also shifts the car's centre of gravity higher and it's location may compromise the fuel tank capacity.
So what have the teams said of their KERS development?
Williams
Williams haven't even run KERS in testing.  Kazuki Nakajima:
To be honest, so far, I have never run a car with KERS.  We once had KERS on the car but we didn't use it – I never pushed that button.
Toyota
The only other team, apart from Williams, to definitely rule it out.  At the launch of the TF109, Toyota announced they would start the season without KERS.
McLaren
Heikki Kovalainen seems pretty confident in his McLaren:
KERS has been running pretty well – it's been running at full-power without any errors so that's quite encouraging.
Ferrari
Despite being one of the most vocal critics of KERS, Ferrari's testing seemed to be going well.  At Mugello Kimi Raikkonen had positive results saying:
The system works well like every other new component.
However on Tuesday Kimi  spent more than three hours in the pits because of a problem with the cooling circuit.
BMW
KERS's biggest supporter, BMW's Mario Theissen, is not sure whether it will be ready for the first race:
I am sure we will be ready at some point; I don't know if we will be ready for Melbourne
Renault
Fernando Alonso seems to think Renault will use KERS in Melbourne:
Our system is truly competitive, it is working well with no problems.  I think we will start the championship with it and without many concerns, but we have to test it first.
Red Bull
Red Bull have the same KERS system as Renault but team principal Christian Horner won't say when they will use it:
We have to wait and see if it proves its worth in testing and then decide whether or not we run it at the first race in Melbourne.
The others
While the Force India and Toro Rosso cars are yet to be revealed it is expected they will incorporate their respective partners' devices; McLaren for Force India and Ferrari for Toro Rosso.
So will any teams use KERS in Melbourne?  While no-one wants to commit to it publicly, I reckon we will see at least one team ready to push the K button at the first race.  Yes, there is a weight trade-off and cooling and reliability could be a problem  but I think that extra 80hp could really provide an advantage even if it is only used off the line and into the first corner.
Image: Williams F1