What is aero mapping?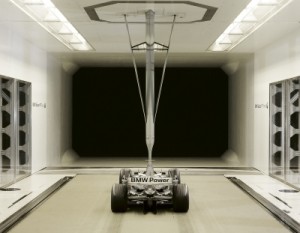 The pre-season testing reports have often made reference to 'aero mapping'.  But what is it?
In this post I take a look at what it means when Hamilton spends the morning "concentrating on aero mapping and finding a good balance" but first, a disclaimer: I'm no aeronautical engineer.  If there are any engineers reading this, please feel free to correct any mistakes in the comments!
Basically, an aero map is aerodynamic data; numbers on a piece of paper, or more likely in a computer. The aero map shows how the wing elements and ride heights on a racing car perform in different settings in terms of lift and drag.  Race engineers can then use these maps to help them choose the best settings for a particular circuit.
Because it is just a set of numbers, the aero map can be loaded into a simulator for testing.  Pedro de la Rosa explained how they simulated Ferrari's flexible rear-wing:
In the simulator, we tried an aero-map, all theoretical, nothing physical. Based on those numbers, we were able to achieve higher topspin. This is what I tested in the simulator. As far as I know, we never raced with that. It was just another item tested in the simulator.
Although a racing car's basic shape and general aerodynamic performance are first sketched out on the designer's drawing-board, this is only the beginning.  Over the course of development and testing every team spends many hours in the wind tunnel trying different setups and parts and 'mapping' the results.  The same concept can also be applied to track testing using laser sensors and suspension force transducers.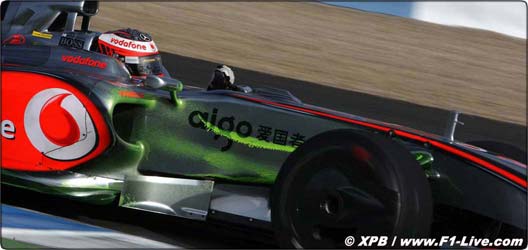 A slightly less technical solution was also seen in testing at Jerez recently when the McLaren of Heikki Kovalainen was spotted with a green liquid on the chassis.  According to a McLaren spokesman:
This is what we call a 'flow vis'  – where we take a paraffin-based light solution and apply it to the car.  The solution is light enough to flow over the car, drying quickly to determine the airflow over the bodywork.

This is a common occurrence when testing new cars and is used to confirm the wind tunnel readouts.
With the limitations on testing this year and the new aerodynamic regulations all the teams are working hard to make the most of the track time before the season starts.  The aero maps created will be vital in helping the race engineers find the perfect setup for Melbourne in a month's time.
Images: BMW AG, XPB