Prediction game: Round 8 – Britain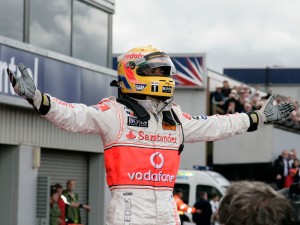 In 1943 the Royal Air Force opened RAF Silverstone as a base for Vickers Wellington bombers.  After the Second World War, the Royal Automobile Club took a lease on the deserted airfield and held a couple of races on the runways with a track laid out in hay bales before switching to the perimiter track in 1949.
In 1950, Silverstone hosted the first race of the newly created Formula One World Championship.  The British Grand Prix then rotated between Silverstone, Aintree and Brands Hatch before settling permanently at Silverstone in 1987.
If Bernie Ecclestone has his way 2009 will be the last time the British Grand Prix is run at Silverstone, at least for the next 17 years.  From 2010 the race will move to Donnington Park, a circuit not without its own history but still lacking the connection with Formula One that Silverstone has had for the last 60 years.
Last year, Lewis Hamilton proved he was a master in the rain when he won at Silverstone in one of Formula One's greatest ever wet-weather drives.  Hamilton described it as "by far the best victory I've ever had", eventually finishing over a minute ahead of Nick Heidfeld in second place.
Unfortunately for Lewis he has practically no chance of repeating that result on Sunday, even if it rains.  Silverstone is a high-speed track with more than 60% of the circuit taken at full throttle.  But it also requires high-downforce through the incredible high-speed corners like Becketts, and downforce is something the McLaren just hasn't got right yet.
Jenson Button on the other hand is looking forward to racing in front of his home fans:
To be leading the championship going into my home grand prix is something that I've never experienced before and it puts a smile on my face every time I think about it.
Renault will be bringing developments to the R29's diffuser and an upgraded front wing package and Technical Director Bob Bell thinks the high-speed nature of the circuit should suit their car:
We've got reasonably high expectations for Silverstone, although we're remaining realistic because we know we're not suddenly going to be fighting for the podium.
Toyota had quite a strong result in Turkey, with Jarno Trulli finishing fourth, and according to Toyota's Pascal Vasselon the team are hoping to build on that at Silvertone:
So far this season, we have been extremely competitive at tracks which require high aero efficiency, so we are optimistic for Silverstone.
But the biggest threat to a Brawn GP victory on Sunday is Red Bull.  Both Red Bull drivers were on the podium in Turkey and the fast nature of Silverstone should suit the RB5.
To make your predictions in round 8 of the F1Buzz prediction game (and be in with a chance to win some nice prizes), just leave a comment on this post with your driver predictions for the race in the following format:
Pole:
First:
Second:
Third:
Fastest lap:
Remember, the deadline for entries is start of qualifying on Saturday, that's 12:00 GMT.
Good luck!
Image: McLaren