Rare McLaren F1 GTR for sale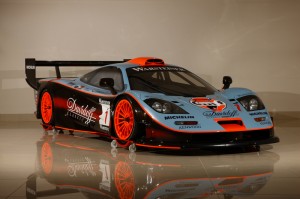 Ever wanted to race in Le Mans?  Here is your chance to pick up an extremely rare McLaren F1 GTR "Long Tail" in Gulf Team livery.
In 1995 McLaren built the first race version of the F1 and at Le Mans that year McLaren F1 GTRs took 1st, 3rd, 4th, 5th and 13th places.
Despite being entered in the GT class, the reliability of the McLaren F1 saw it beat the faster purpose-built Le Mans Prototype cars, completing 298 laps at an average speed of more than 162 km/h.  It also recorded the highest top speed in practice, reaching 281 km/h.
Incredibly the first McLaren F1 GTR had only rolled off the production line six months earlier.
In 1997,  a number of changes were made to the GTR to meet major regulation changes but the most important was a substantial reduction in weight.  The '97 car weighed only 915kg and this combined with an improved transmission and the new "long tail" aerodynamics saw lap times improve by four seconds over the GTR '96.
At Le Mans in 1997 Gulf Team Davidoff won the GT category and also finished second overall.
Out of 28 McLaren F1 GTRs built, only 10 were long tails.  This one is chassis number 28 and was originally used as a Gulf Team Davidoff spare car that was raced during the second half of the season.
It might not be as rare or as beautiful as a Ferrari 250 Testa Rossa but this is still an automotive work of art.
The ultimate race version of the ultimate road car.