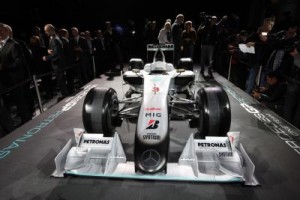 Today's launch at the Mercedes-Benz Museum in Stuttgart was a team and livery launch – not, unfortunately, the launch of their 2010 car. For that, we will have to wait until 1 February when the MGP W01 will make its track debut at Valencia.
Nevertheless even without a new car on display the first (sort-of) launch of the new season was still enough to bring down the Mercedes GP website. McLaren is planning to live stream the launch of their MP-25 at Vodafone UK's headquarters in Newbury on Friday January 29. I hope their servers are up to it…
Still, it was a chance to see what the new car's paint will look like and also for Michael to say how excited he is to be driving for Mercedes-Benz again and how it is a "dream come true" for Nico. It will be very interesting to watch the dynamic between these two drivers once they get on track.
The new livery looks great: Mercedes's traditional silver with flashes of green for new sponsor Petronas. On the nose and other parts of the car, the silver paint has been removed to allow traces of black carbon fibre show through. This is a nice touch – a reminder of the first Silver Arrow of 1934.
There is a (probably apocryphal) story about how the 1934 Mercedes Silver Arrows racing cars got their colour.  Before the introduction of sponsorship, racing cars had always been painted in the traditional colour for their country; Britain was British Racing Green, France was French Blue and Italy was, of course, Rosso Corsa.  German cars were painted White.
From 1934 onwards a maximum weight limit of 750kg was introduced and Mercedes-Benz found that their W25 weighed 751kg.  After puzzling over what they could do to lose weight, racing manager Alfred Neubauer came up with the idea of scraping off all the paint to leave the silver aluminium exposed.  This supposedly saved the 1kg required and the Silver Arrows were born.
Images: Mercedes GP