BMW get behind Heidfeld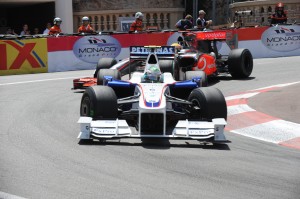 There has been some speculation in the German press recently about Nick Heidfeld's future at BMW.  His contract is due to expire this year and there have been rumours that he will be dropped from the struggling team at the end of the season.
The Bild newspaper said on the Saturday of the Monaco Grand Prix that while Kubica will be retained, Heidfeld is marked for replacement in 2010.
I'm not sure where the rumour started but it doesn't really make much sense when you think about it.  Nick has consistently outperformed his team mate this year and as Heidfeld commented:
I don't know why they would get rid of a driver who has scored six out of the six points.
The team seem pretty supportive of Heidfeld, too.  Last week they posted a glowing article on their website describing Nick's 'talent and meticulous work ethic' in his career with BMW.
They point out that Heidfeld scored the first podium for the team in Hungary in 2006.  In 2007 he made the first front row start for the team as well as another two podiums and in 2008 he achieved BMW's first two fastest laps.
He may have the record for the most podiums without a win (12) but I think Heidfeld's seat at BMW is pretty safe.
Image: BMW AG